There are 25 entries in the lightweight women's single sculls – a non-Olympic boat class that frequently sees former and future LW2x Olympians compete. Three-time Olympian Marie-Louise Drager, 41, is the current (2019) world champion. After missing Tokyo 2020 qualification the long-serving German sculler has consistently reached LW1x A-Finals this season and won a bronze medal in Poznan. It will be a tough ask to make the podium in Racice.
Romania has a shot at the medals by way of Tokyo 2020 and Rio 2016 Olympian Ionela Cozmiuc. The two-time senior world champion dominated the field at Munich and claimed her first European title almost five seconds clear of her nearest rival. Before Europeans she raced in the Romanian W4x at World Rowing Cup III in Lucerne, Switzerland.
Greece's Zoe Fitsiou started the season with an A-Final finish in the openweight W2x. She won LW1x silver in Munich behind Cozmiuc and will hope to go one better in Racice. Her gutsy, medal-winning-effort in the European A-Final led to a post-race dizzy spell in the media zone and the attention of the medical team: so Fitsiou can fight.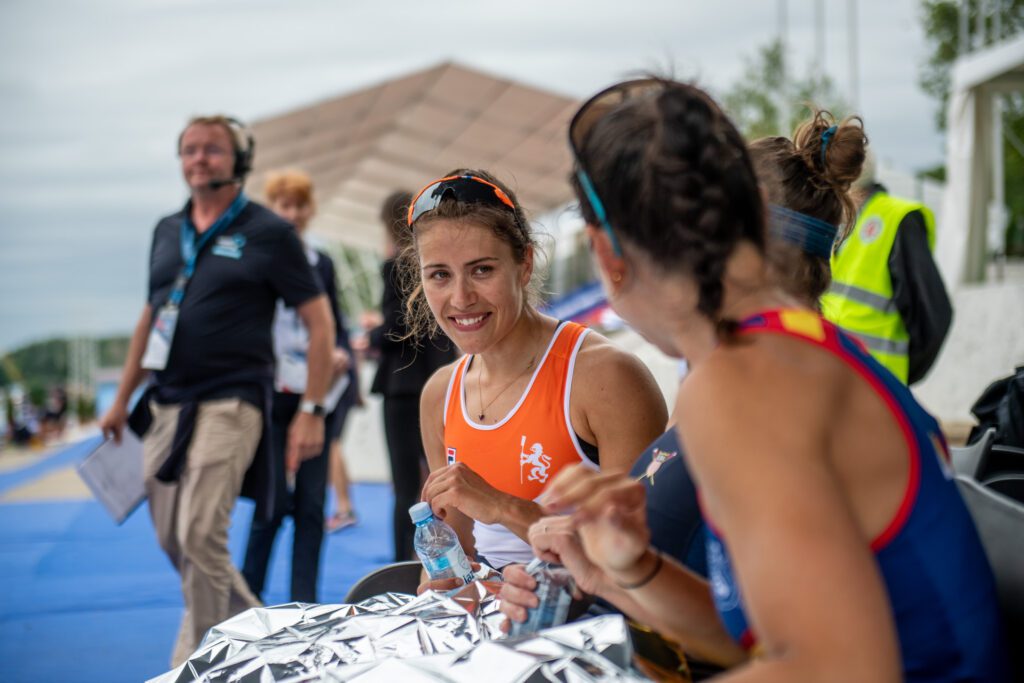 Dutch sculler Martine Veldhuis is well-versed in the LW1x, the 2020 European champion claimed a world cup silver medal in Belgrade and a European bronze medal in Munich. At 2022 World Rowing Cup II she raced in the LW2x but in Racice she presents a viable threat to those looking to podium in the single.
Kirsten McCann who represented South Africa in the LW2x at Rio 2016 and Beijing 2008 Olympic Games makes a return to the LW1x. She is a former world champion (2017) and multi-world medallist so she knows how to deliver when it counts. She last featured on the podium at Lucerne Regatta 2022 and won a bronze medal.
British hopes rest with Maddie Arlett who enjoyed an unbeaten season in the British LW2x (World Rowing Cup I and III) before losing her seat to the University of Cambridge medic Imogen Grant. Frustratingly illness forced Arlett to withdraw from the Europeans but the 2019 LW1x bronze medallist is a ferocious competitor and will be keen to show her best at Racice. The Scottish sculler is not to be underestimated.
A former teammate of Arlett, Grant and Kyra Edwards (who will compete in Great Britain's W2x) is the dual citizen French sculler, Susan Duncan. Her last race for Great Britain was in 2019 when she won the U23 LW1x. This season, Duncan raced at Poznan in the LW2x before switching to the LW1x at Lucerne where she made the A-Final.
Two from two in 2022 for Mary Jones, the US sculler. She blazed through her lightweight opposition at World Rowing Cup I and II and added world cup gold to her 2018 and 2017 World Rowing Championship respective silver and bronze medals. To date a world title has eluded the American. Will it be fifth-time lucky for the two-time medallist?
Australia's Georgia Nesbitt secured a silver medal at Poznan behind Jones, and just ahead of Drager. Her world cup run ended with a medical withdrawal at Lucerne prior to her A|B Semifinal. Heralding from Hobart, Tasmania, the 2014 U23 LW2x bronze medallist has twice missed Olympic qualification via the Final Olympic Qualification Regatta (in 2016, and 2021) also known as The Regatta of Death. Making the A-Final in Racice would be a solid start to the new Olympiad, for the tenacious Tasmanian.
One of the most intriguing entries is from New Zealand. Former LW2x world champion Jackie Kiddle continues her rowing renaissance after missing Tokyo 2020. At the start of the Olympic year (either the original in 2020, or the postponed in 2021) New Zealand were favourites to win the LW2x at Tokyo. Kiddle and Zoe McBride had only ever known A-Final finishes during their international careers, (at that point it was 14 consecutive A-Finals for Kiddle, and 18 for McBride). But the hotly tipped duo disbanded after McBride announced her retirement prior to the Games – a decision Kiddle fully supports and understands.
Kiddle has two entries at Racice, one for the LW1x and one for the LW2x with her new double's partner Rachel Kennedy. The New Zealanders missed World Rowing Cup II in Poznan due to team Covid protocols: Is her LW1x entry an insurance against unexpected illness? No! Incredibly Kiddle is doubling up between the LW2x and the LW1x – it is a tough ask (possibly unprecedented) but as Kiddle puts it, "part of challenging myself this year".
Iran's Tokyo 2020 Olympian Nazanin Malaei, who has been training on a 1000 meter lake in Tehran, is set to make her second senior world rowing championship appearance 11 years after her senior debut in Bled, Slovenia. Other senior world championship debuts will be made by the scullers from Japan, Hong Kong, Finland, and Canada.