Anyone for a bit of rowing? For the first time in two years the entire collection of senior internationals, officials and press are back together, and boy does it feel good. The Tokyo Olympic Sea Forest Waterway may not be everyone's idea of a perfect course, but it is water, it is 2000m and there will soon be real competition. Crews have been training in the cooler early part of the day, with several (notably the Brits, sporting ice-jackets first seen in Beijing 2008) testing out the hotter midday sun as well in preparation for their weekend racing.  

Up in the roofed media grandstand watching all this gentle tapering was British rowing regular and legend in his own lunchtime Martin Cross, who first went to the Olympics in 1980, promptly winning M4- bronze, and followed that with gold in the storied GBR M4+ four years later. Sliding effortlessly into journalism after his illustrious and lengthy rowing career, Crossy has been participating in or watching international rowing nonstop for more than 45 years now and is the only other person apart from me who will deliberately go and work in the grandstand so he can see the crews doing high-rate bursts before he has to commentate on them, and watch their technique. Unfortunately for him they weren't playing ball on Wednesday, most choosing to finish their pieces and practice sprints/starts before reaching his vantage point near the line. Only the British W4- cooperated, doing a slick and tidy start right in front of Crossy which demonstrated their particular brand of precision and deft silkiness.  

A brief scouting trip to the rowing today was enough to confirm that while handsome, Tokyo's course — somewhere between a lake and an ocean — is going to be tricky for everyone. When the wind is in the right, or possibly the wrong, direction the jumbo jets aiming for Haneda Airport a few hundred metres away fly the entire length of the course from finish to start line while descending, and boy do they make some noise. Apparently the umpires have been given carte blanche to delay races for up to 2 minutes to let a plane clear through, though we are yet to discover whether they have advance warning of which planes will be landing on the rowing trajectory. The water is bumpy, and we know can reach near-Rio proportions of lumpiness, so fingers crossed that won't spoil the efforts of crews, particularly those with known medal chances. It might be a dream scenario for a qualifier to knock reigning world champions out of the repechage because their lane has fewer white-capped waves, but it's not an outcome which really works for rowing, a sport firmly based on the "faster" and "stronger" parts of the Olympic motto.  

Talking of favourites, today the draw was done.  Sadly not one any of the press could attend, since nearly everything is being hived off and not in person, particularly for grubby journalists. [Though why they're scared of the press, when the seven positive COVID cases so far discovered at the Olympics are all amongst athletes, their national federation officials or support staff, is bemusing.]. The draw came only shortly after the FISA Seeding Panel had revised some of their initial decisions, likely based on athlete changes already announced by teams, who had to confirm them before the draw. The numbers seeded here are two per heat, meaning 12 for singles, 6 for 2-/2x, and 4 for each of the 4-/4x/8+ crews, with spares for some categories, and the ranking reflects FISA's view of likely speed. Here is a full list of the changes:
M2- Belarus out of the top six, Italy inserted in fifth ahead of Canada, who were dropped to sixth.
M2x Poland out of the top six, France in sixth behind Switzerland, who were promoted to fifth.
W4- Romania dropped to spare, Australia inserted at third in front of Britain, who were dropped to fourth.
W1x Top 11 unchanged, Mexico removed as spare, Serbia dropped to spare and Netherlands added in twelfth.
M1x Top 3 unchanged, then CRO-LTU-GRE rearranged to LTU-GRE-CRO, rest unchanged.
LW2x All six unchanged, but spare changed from Ireland to Switzerland.
M8+ Top two unchanged, but the Netherlands dropped out of the seeding, Australia promoted to third and New Zealand added in fourth.
The full new list can be found here.

The draw itself doesn't have too much chance of early surprises as long as the weather holds, partly because in most events at least two or three crews qualify, so the seeded entries should be fine. Nevertheless in the big-boat events, where the top racers go straight to the final, we could have more than pride on the line. The Brits and Dutch go to it in the women's fours with potentially decent crews from Canada and China in the mix, while all four eights races (only one crew qualifies direct to the final) could be corkers. In the two men's races relative unknown quantities Australia and USA are pitted against the Germans and Romania in one heat, New Zealand against the Dutch and British in the other, while the women's sees Canada and China against New Zealand and a resurgent British crew in one, Australia and USA against Romania in the other.  

In other news, Grace Prendergast and Kerri Gowler are confirmed as doubling up, racing engine-room 5 and 6 in the Kiwi women's eight as well as in the pair, to go for a two-pronged attack on Olympic sweep medals which had a habit of working whenever the Romanian women did it in the nineties and noughties. But it's not a popular option this time, even though many experienced rowing people think it may have to become mandatory when one day the rowing contingent at the Olympics is trimmed even more drastically.   

There is an elephant in the room this year, and it's called ROC. Now, FISA made a bit of a muck-up on their seeding list, since the rules for fully tested Russian athletes who are going to compete at this Games is that they have to be referred to as members of ROC, which does stand for Russian Olympic Committee but isn't allowed to be referred to with the country name, nor can they use their flag, anthem or any national symbol, though their permitted uniform does clearly form a Russian flag pattern. These rules are part of the ban upheld by the Court of Arbitration for Sport following the disclosures of widespread sample tampering at the Moscow anti-doping laboratory.  

Athletes permitted to compete have to be tested as clean outside Russia, but two weeks ago a pair of accredited Russian rowers were shown to have tested positive for meldonium at the Final Olympic Qualifying Regatta. FISA aren't naming them as their hearing hasn't yet been held so they could yet be cleared, but AP allege that the names given to two Russian news agencies are Nikita Morgachev and Pavel Sorin, and three days ago the ROC M4x was withdrawn since the Russian selectors decided the permitted replacement scullers made it uncompetitive. Lithuania's quad, beaten into third by Estonia and Russia at the FQOR, were let into the Olympic competition instead, and seem to have managed to get to Tokyo with zero notice (I wonder if they were doing precautionary PCR tests just in case they were given the nod. In their place, I would….)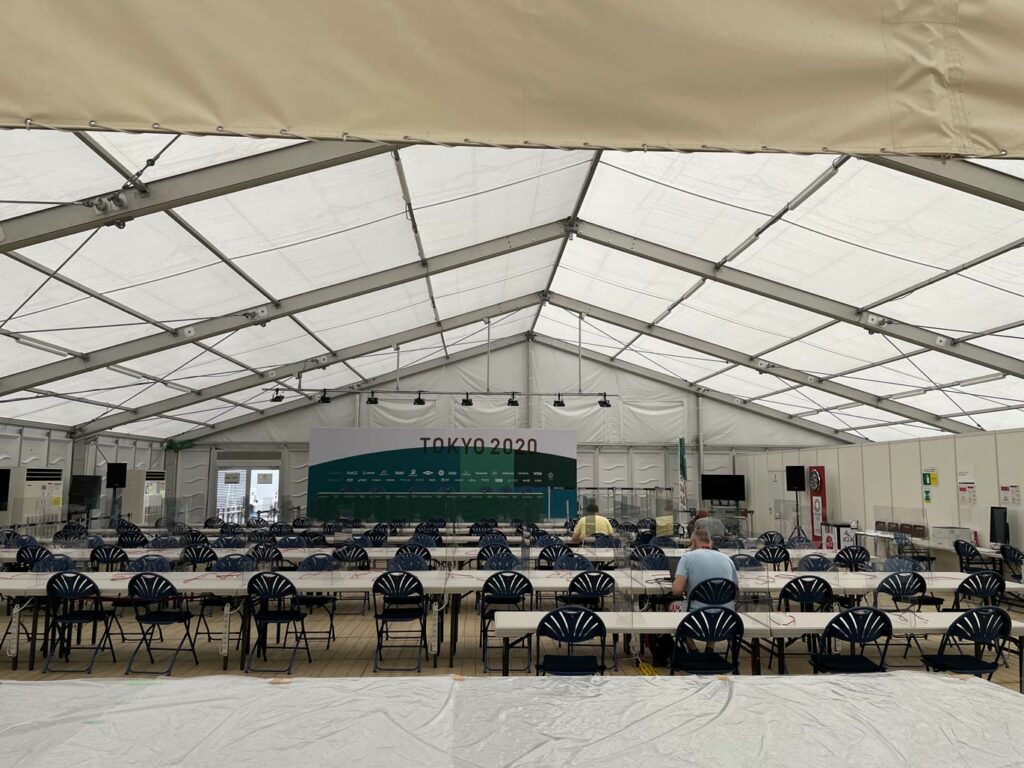 The IOC held its big session on Wednesday, so news of various kinds trickled out. Former FISA president Denis Oswald stays on the IOC Executive, which is good for the sport, while it was confirmed that the 2032 Olympics and Paralympics have been awarded to Brisbane, Australia, which was just a formality after last month's decision. The aim is for rowing to take place at the Queensland Rowing Centre at Wyaralong Dam, which after the more constricted Paris and Los Angeles courses will be relaxingly large lake.  

But first we have to get three more Games out of the way, with this one set to start 11 hours before the opening ceremony, on Friday morning. Perhaps the scullers who qualify in the 1x, 2x and 4x on Friday morning will be allowed to go to the stadium for the evening's festivities, along with the eights who don't race until Sunday? Could be quite a coup for more than half the rowers, who have previously had to  miss the opening parade or risk doing badly in their first heats. We already know that NZL M8+ oarsman Hamish Bond, one of their most decorated athletes, will be co-bearer of the Kiwi flag with women's rugby sevens captain Sarah Hirini, so that's one rower to look for.  

This year the IOC are encouraging joint men's and women's bearers to improve the gender balance of the honour, and already a lot of other countries  have said they will take up the new option. Other rowers announced as flag-bearers this week include Boat Race alum Dara Alizadeh (Bermuda's M1x), Madalina Beres (Romanian in the W8+), plus a clutch of rowers from their country's sole entry:  Rillio Rio Rii (Vanuatu's M1x), Tonu Endrekson (member of the Estonian M4x), Bruno Cetraro Berriolo (from the Uruguayan LM2x), Maike Diekmann (Namibia's W1x). Remember there will be no spectators, minimal and spaced-out press/bigwigs, and a socially-distanced parade.  Expect lots of virtual cheering, but I'm sure it will be as good to watch on TV as usual.