You can take the Redgrave out of Britain, but you can't take the Britain out of Redgrave. Being quizzed by the celebratory Chinese press after racing, CHN performance director Redgrave spared a thought for the country of his birth, finishing eight places below that of his employers on the Tokyo2020 medal table. He ascribes the problems to a return to an archaic form of selection. And by the way, the word 'we' here means Great Britain, engraved forever into Redgrave's DNA.

"Overall I think we've got to be disappointed. I think I'm right in saying the last time we had results worse than this was Munich '72. That's a long time ago. But if you bring in systems and selection panels that we had in the '70s and '80s, you must expect results like we had in the '70s and '80s. I'm just stating facts: we've changed our system in the last year, and suddenly we've gone from being one of the best nations to being nearer down the other end."
Twenty minutes later the GB performance director Brendan Purcell had a day of reckoning which has likely been coming for nearly two years, a period during which Purcell has barely spoken to the independent press, nor encouraged his athletes to. Suddenly, with concrete evidence of failure on the table, he was being asked to explain the state of GB Rowing, only minutes after one of his athletes had burst out in long-suppressed criticism of departed coach Jürgen Grobler. "On a medal table point of view, we had a four-medal target and we didn't meet that," he acknowledged. "We didn't meet our own expectations. Have we seriously underperformed? No, we put boats in the medal zone and that's what we can control. I'm not putting that on the athletes, they put themselves in that zone."
He then quoted a statistic he is clearly very keen on. "One thing we have to be cognisant of is we came into this cycle with only 20% Olympic athletes and it's normally 50+. And we haven't had a gold-medal boat at any of the world championships, usually in the cycle there's a gold-medal boat leading the charge, and that's something we have to rectify really quickly. UK Sport will be sitting down with us really soon because we didn't meet our medal target, and we're accountable to that funding. All I can say is I won't be sleeping well until we get back on top." Continuity is something Purcell values, although the tough fact is that now the continuity of success has been broken. "All our gold-medal boats [in the past] have had a returning Olympian. It just allows people to have the confidence in what they're doing. We've got world championships – there are gold medals [available] at each world championships in between. We have to be delivering a gold-medal boat in the next couple of world championships to give us confidence that we will be able to perform [at the Olympics]."
The changes in GB Rowing's approach have, however, been relatively small. The crews racing in Tokyo were predominantly the same as those selected by Grobler just before the pandemic struck, and the land training programme hasn't altered. "The programme that Jürgen's developed over the years, we've maintained," men's sweep head coach Steve Trapmore told Row360. "We haven't changed anything, I think that was really important for the athletes to understand and trust in that stability. Clearly he's created a very successful programme in terms of developing successful athletes, and we made a big commitment to make sure we continued that legacy for everyone involved." So what led to these results? "Jürgen Grobler did have experience of achieving the best but we have a team of coaches who've accumulated the same experience," said Purcell. "We've never delivered a silver medal or a medal in the men's quad, and [this one is] because we've been able to spread some of the autonomy to the coaches to take that on."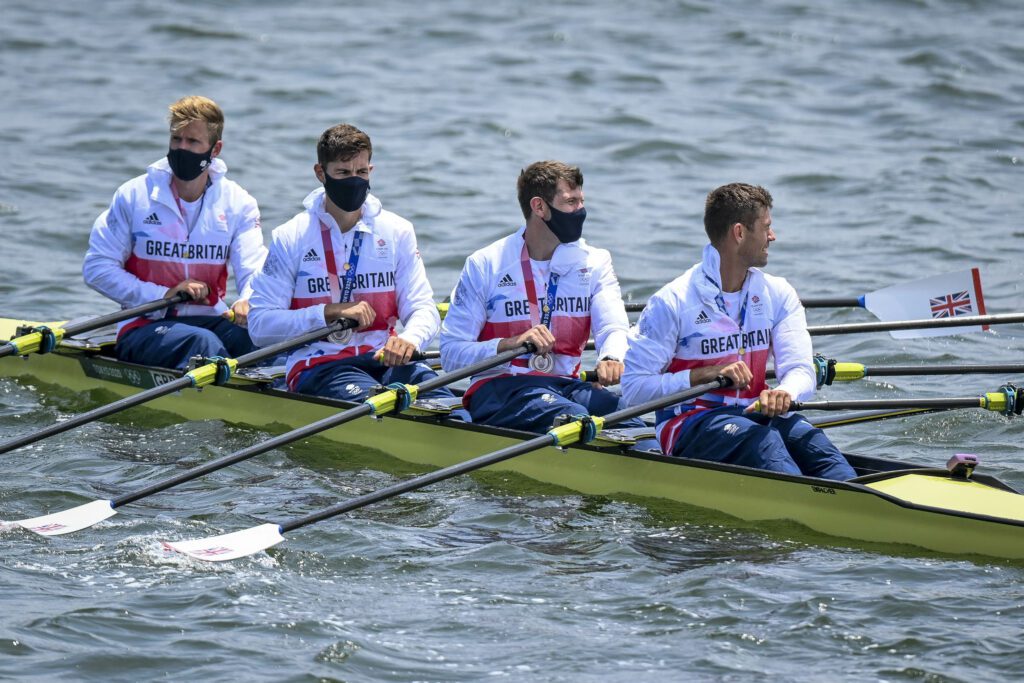 Some might suggest this logic doesn't entirely hang together — if the M4x medal resulted from the changes within the last 11 months, why didn't six others convert close 4th places to a medal. Purcell has plans. "We've also had all those boats stepping into those medal zones – not delivering, but that's because we've had a consistent application from each individual coach applying and getting into the head of their athletes they're working with. It's a model that will definitely help us moving forward. We still need to ask ourselves tough questions and we'll give ourselves time to let it settle and then come together as a group. To help us I'll be bringing in some external experts, people like Peter Keen who knows more about performance in sport than most people. I want to move forward to a balance where the athletes have an understanding of their autonomy, but also their accountability. I want them to have more accountability for their own performances."
[In 21 years of writing about the GB rowing team, the one noticeable constant has been how responsible virtually all athletes have already felt for their failures, more so even than for their successes.]
There is one definable difference between Grobler and Trapmore, his successor in historically the highest-achieving section of the squad. It lies in the fact that Trapmore has running through his personality the experience of being stroke and one of the smaller members of the British Sydney M8+ which claimed gold in 2000 despite being Grobler's third-ranked crew. He couldn't just power his way to victory, he had to think and perform his way there. "I don't have the experience of Jürgen over so many decades and decades and decades but for me it's the balance between the application and the physiology, and there's no short-cuts. You have to be able to develop the physiology, but in line with your ability to apply it in an effective and efficient way. If you do that you're not limited by your physiology, you're limited by your mental capacity to stay in a process of delivering a performance. That gives you flexibility and dexterity to produce something extra when you need to, and you have to. In Sydney we had good physiology but nothing like people have now. But we could produce sustained speed and cope with being under pressure in racing. That's probably an underestimated element." An interesting idea.
The post-mortem in GB Rowing will start on 1st September, says Purcell. Meanwhile some aspects are already being played out in social media and in the opinion columns of the broadsheet sports sections, feeding on the heartfelt outbursts of athletes who clearly feel there are unacknowledged issues. There's no doubting that when Grobler walked last summer it was unexpected, a route taken rather than falling in with British Rowing's plans. "He went away to think for a few days and I didn't think that would be his decision," said Purcell. "It was possible, but I didn't expect it." Steve Redgrave has suggested that it may even not have been Grobler's choice.
Grobler is now rumoured to be acting as a consultant to the French team, possibly even considering signing a contract with them. If he did sign up with the Fédération Francaise d'Aviron until Paris 2024 it would be quite an undermining of the current GB Rowing narrative that he couldn't commit to another Olympiad. In hindsight the decision to try and downplay Grobler's sudden exit in August 2020 and minimise press interaction with the team may have been an error: episodes which stir up emotion always have a habit of coming out in public, even if it takes a long time to happen, as this week's furore has proved. The new glasnost within British Rowing may have to come to terms with increased freedom of speech if they want their athletes to take more personal accountability.