Two-time Olympian Jeannine Gmelin announces her retirement. It follows (one month and ten days after) the tragic death of her coach Robin Dowell. "[It] fundamentally shook my life. Everything changed. From one second to the next my coach was gone, my confidant was no longer there, my beloved teammate was unreachable. A never ending nightmare… At first it was a dull gut feeling, which then matured into a clear decision in the weeks that followed: I am ending my active career with immediate effect."
Gmelin was targeting the Paris 2024 Olympics. "Teamwork and the motivation to achieve and live excellence in all its facets were what drove me to tackle the campaign to Paris – my third Olympic Games – together with Robin," Gmelin posted on Instagram.
"Robin's passing ruined that plan. A unique person, my coach and role model is no more. And so is our extraordinary teamwork. With that, my personal 'why' broke away. Added to this is a mourning process which – as I can see – is unpredictable and which I therefore want to give the necessary space for. This combination finally led me to my decision with a heavy heart."
More than half of Gmelin's professional career was spent working with Dowell. "We never saw our assignment as a job. We were a team because we valued, trusted, motivated, and inspired each other. …we pushed each other and were there for each other at the same time."
Gmelin first raced internationally as an U23 in the women's double but spent her senior career in the single. One year after her senior debut she claimed a silver medal at the 2015 European Rowing Championships. Finishing fifth at the 2015 World Championships was enough to qualify for the Rio 2016 Olympic Games.
At Rio she progressed to the A-Final after pushing Australia's Kim Brennan (née Crow) and New Zealand's Emma Twigg to within two seconds in the semifinal. Ultimately, placing fifth at her debut Olympics.
On the early years of her international career, Gmelin reflects: "The results were the most important thing, and my main motivation was to be at the top of the podium – no matter what the cost…" But, "striving for excellence, for the best version of myself as an athlete and as a person," replaced the "purely results-based mindset". This new perspective was "our core value of operating. It was our greatest common good and not only shaped me as an athlete but also as a person. And Robin too."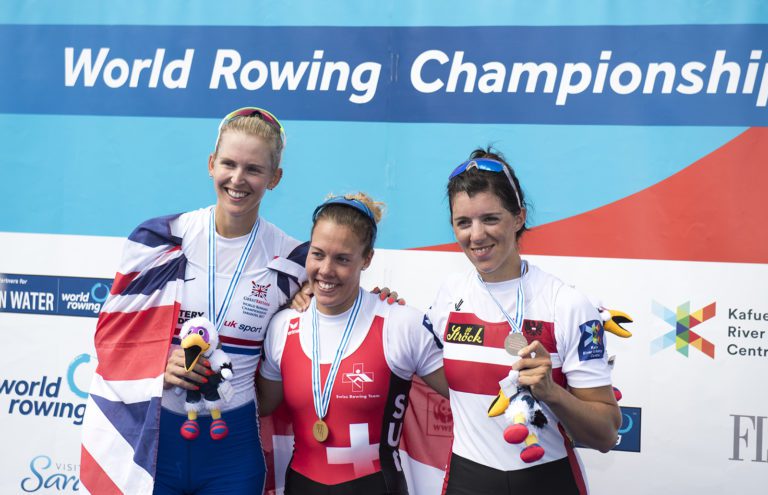 At the start of the Tokyo Olympiad Gmelin was an unstoppable force, under Coach Dowell she claimed the title of World and European champion. The Swiss sculler enjoyed an unbeaten run from 2017 to 2018, which ended with a silver medal at the 2018 World Rowing Championships. At Tokyo 2020, Gmelin again made the A-Final and finished fifth. In the two seasons prior she won European silver and bronze medals. After Tokyo, in what would be her final season, Gmelin twice medalled at the world cups but was forced to withdraw from the 2022 European Rowing Championships following a positive Covid test. And finished eighth at the World Champs.
"I look back on my career with a lot of melancholy, but also with great gratitude. I will not primarily remember the medals, victories, or records, but the people who have walked this path with me, the connections and friendships that have developed. And which, I am convinced, will endure far beyond my sporting career," posts Gmelin.
"Today I am closing a long, sometimes difficult, but indescribable chapter. I will miss professional sport and all that it entails very much."