And so after a busy rowing summer, we flock to Belgrade, either in person or virtually, to participate in and witness one of the most stressful events of any Olympiad, a qualifying worlds. This is the biggest rowing event Belgrade has hosted, though it's held several world cups and the Europeans and junior champs in the past. Unlike the crowded site footprint of Linz 2019, this worlds does have enough space and facilities to support the biggest entry of any Olympiad, this year a total of 1009 competitors in 455 crews from 73 countries.
The Ada Ciganlija, or Gypsy River Island, is a separate chunk of land alongside a branch of the River Sava which was closed off to turn into an artificial lake 56 years ago. The perfect size, depth and shape for rowing, Lake Sava is a pretty good venue, with warm water for quick racing and one of those fully-installed venues (similar to Poznan) created after World War II in eastern European cities which prized offering open sports and recreation facilities to their populace. That means plenty of buildings, built-in grandstand steps, sports courts and a kid's fun park, cafes and cycle hire all ready for rowing visitors, with the minimum of temporary construction needed.
Openings heats Sunday began slightly overcast, swelled to full-on sun for most of the racing programme, and then clouded over during afternoon training before succumbing to the thundery squalls floating over Belgrade that evening. Broadcast on World Rowing video from the very first race, rowing was tight and determined but there were few surprises. The seven events which began were those with quarterfinals and a four-race long plod to weekend medals: the singles, men's open and lightweight doubles and men's pairs. Of those the men's singles nearly maxed out with 48 entries, 47 of whom made it to the draw. (49 would have meant a requirement for time-trials instead of heats – a close shave).
With Paris on everyone's mind, nobody was leaving the Games pathway yet: that will happen on Monday when repechages will see the first crews banished to E/F/G/H quarter- or semi-finals. Fortunately there were no boat-under-weight crises (a hot-weather problem which has occasionally seen good crews sent via the repechages), but former junior silver medallist Anastasiia Liubich, racing as an Individual Neutral Athlete (abbreviation AIN) was excluded from the competition after failing to make weight.
Olympic singles champion Stefanos Ntouskos led the way for the rest, cheerily winning the first race of the week in under 7 minutes, without too much competition from the rest of his heat. The other big names in men's single sculling progressed through too, with the one exception of Kjetil Borch who had a ding-dong battle to the line against Canada's Trevor Jones, both behind Olli Zeidler. Jones had his bowball in front for the last couple of strokes, just enough to grab the quarter-final place, while the injury hit former medallist Borch will need to go through the repechages.
In the same event Yauheni Zalaty, competing as AIN, won in a tidily quick time and will be one to watch.  So that we don't have to say it too often, since they're racing unaffiliated, the backstory here is that a small number of Belarussian and Russian athletes who had been active before the invasion of Ukraine in 2022 have been out of the limelight, though still training, during the ban which the AIN status allows them to circumnavigate.  To qualify as AIN a rower has to have no connection with or support for the Russian military operation, and Zalaty is typical of several who were under-23 in 2021 but are now racing on the world stage after a hiatus from competition.  He was the only AIN athlete to win a race on Sunday but there are several others yet to race.  
The women's singles also had the usual suspects showing their form, from Emma Twigg (NZL) to Alexandra Foester (GER), Karolien Florijn (NED) and Tara Rigby (AUS). Slightly surprisingly Hanna Prakaten, who has undergone a spelling name-change since migrating from Russia to compete with Uzbekistan, only came fourth and outside the quarterfinal cut-off for her heat, a full fifteen seconds behind Florijn's quickest time for the event.
The lightweight men's singles look set to be rather competitive, the women's singles slightly more spread-out. They're both odd events in a qualifying year: the people in them haven't been able to claim a lightweight doubles place in the Olympic event, so are effectively spares, and doing well here does not qualify them to take part in the Olympic singles event, though for countries without one they could move into that category at a later qualifying regatta. Mexico aside, where I could imagine the speedy Kenia Lechuga going openweight in 2024 to have a shot at the Games as she did in Rio and Tokyo, most of the lightweight singles entries are from countries with large teams where the M1x and W1x slots are already filled.
The lightweight men's doubles will be another tasty event. Ireland's famous duo calmly won the first of the five heats in a quick time, only for Switzerland's brilliant partnership of Jan Schaeuble and Raphael Ahumada Ireland to carve another four seconds off it. The Swiss were the undisputed kings of the LM2x this summer every time Ireland's top crew were absent, until both got outwitted by France in the epic Lucerne final. Hugo Beurey and Ferdinand Ludwig (FRA) seemed to be saving their fire this time, content to finish second behind Germany which may be sensible in a long and stressful week.
The short racing session finished with the men's pairs — in which the top five of Romania, Spain, Britain, Switzerland and Australia all won their heats — and the men's doubles, in which the Dutch and Romanians posted the most competitive times and the Croatians strolled over in a slow last race. These events had the most generous qualification to the quarter-finals, being crew events with fewer entries than the singles, and so in all of them anyone with real medal pretensions just had to avoid coming fifth or sixth. As a result we won't have seen anything like the real speed of those involved.
There was chat about water-weed, reports of chunks of green stuff being fished out at the start, though it didn't seem to affect racing.  No doubt the tiny freshwater jellyfish which inhabit the lake weren't a problem, though if rowers see a large fish below them that will be one of the vast catfish known to swim at the bottom, one of which was once caught and measured at 2m long before being re-released.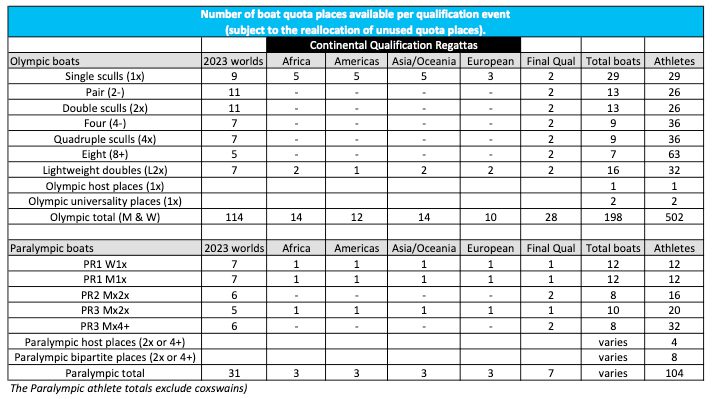 Monday's racing will be harder and higher, with the schedule compressed to get it all in before the last tail of the thunderstorms hits in the afternoon.  The preliminary races for the small number of straight finals have all been moved to Tuesday to make this happen, and to prioritise the Paris qualification races.  Here's the crucial qualification cut:  the first column shows where crews must come here in order to bag a 2024 Games spot at the first time of asking.  
The first two races of the revised day, the two Paralympic mixed doubles, will see a total of four crews buy early tickets to Paris, paying in sweat and lactic acid.  That will get it all going with a bang.