While the 54th Head of The Charles Regatta boasted a strong international entry it proved to be a banner year for the home-nation on the Charles River in Boston this weekend.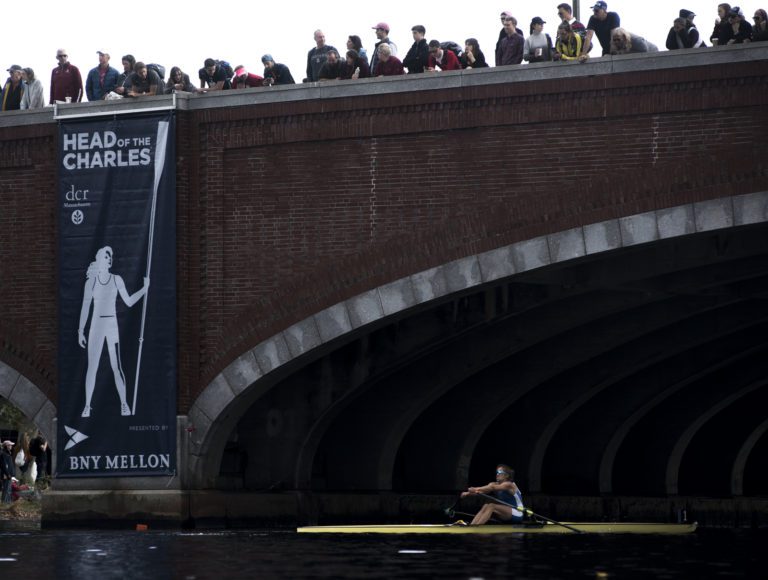 Opening day sun shined on a large turnout on Saturday as forecast wind and rain failed to materialise and local favourite Newton-native Gevvie Stone provided a crowd-pleasing sculling demonstration to win her ninth championship women's single title.
Stone surpassed the record for most wins here with her eighth in 2017, won while training part time around a medical residency last year. But with Tokyo 2020 firmly in her sights Stone has returned to full time training for 2018 and it showed on Saturday as she eased passed three of the men's lightweight singles who had started in the division ahead.
"The cheers had me smiling much of the way down the course," said Stone after racing on Saturday. "I loved chasing down the light men."
It was an entirely different story in the men's champ single as outsider and University of Washington senior Ben Davison took a surprise win ahead of internationals Mahe Drysdale, Robbie Manson and Oliver Zeidler.
After a frustrating summer for Davison, where he finished out of the medals at the U23 worlds in the single, the Florida native had been given the choice by his coach Mike Callahan to race with the UW team in the eight on Sunday or pursue the single. Choosing to go in the single Davison's gamble paid off as he was able to finish first overall from a starting position of 26th.
Colder and windier conditions on Sunday saw the best of the big boats charging down the course in challenging water conditions, with the US national team coming out on top.
US women's coach Tom Terhaar fielded two lineups that bore no resemblance to the world championship winning eight in Plovdiv last month but managed to secure the overall win – 16 seconds ahead of second placed Stanford University – with the second US eight finishing narrowly behind in third.
US men's coach Mike Teti opted to keep things simple, keeping his crew unchanged from Plovdiv where they finished fourth in the world championship final.
Of the 32 crews, including Dutch and German entries, the US men finished first in the championship eights albeit only three seconds ahead of the Yale varsity. Brown University rounded out the top three, finishing a further 15 seconds behind Yale.