On Wednesday 28th July it quickly became clear what the UK mainstream newspapers considered important in the 21st century, where disagreements, controversy and spite are more interesting to the general population than sport. Editors ditched reports of the racing at the Sea Forest Waterway in favour of a discussion about whether or not at least one former Olympic champion in the GB men's coxless four had been derogatory about the current incarnation, and the conversation spilled over into other non-sport questions such as the precipitate departure of Jürgen Grobler as coach, the support given to athletes (or not) and what various famous names said about all this. The racing was ignored, a two-line addendum tacked on the end once the matter of the four's steering had been disposed of. Did this soap opera gain hits? Yes of course. Rowers can say what they like, but for such a minor sport, anything controversial is going to get a thousand times the public attention that a pure sport report will, and hits just confirm newsworthiness. So the newspaper editors carry on thinking they are right to cover rowing this way. There isn't any way to dissuade them.
However, we can make good the gap. So here's the report the UK press should have written.
BRITISH MEN'S QUAD WRITE NEW CHAPTER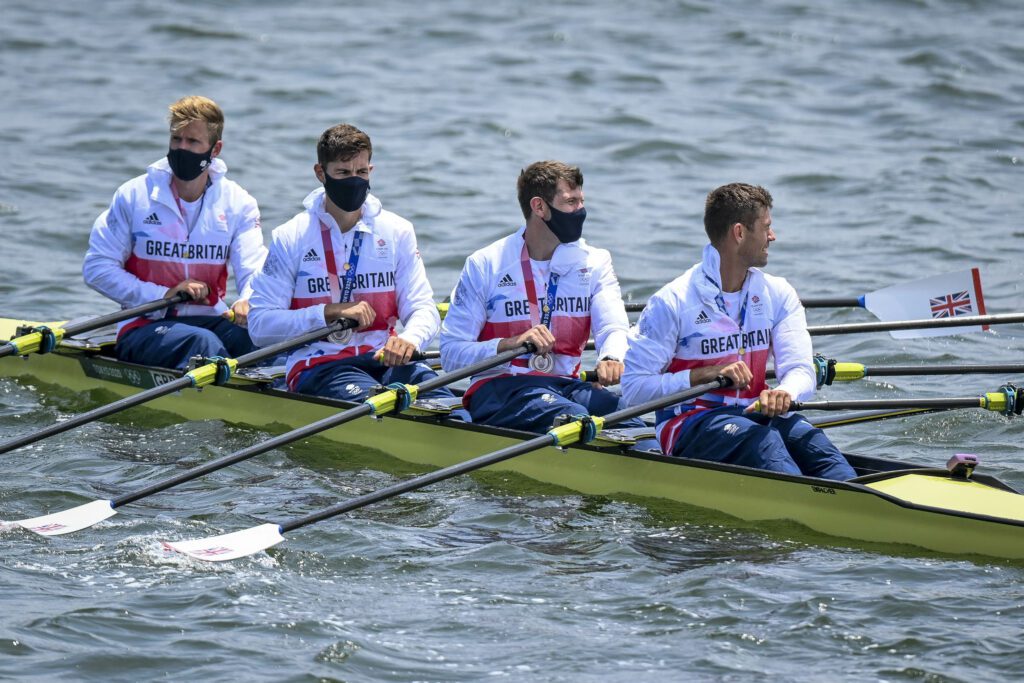 History was made in Tokyo yesterday as Jack Beaumont, Tom Barras, Angus Groom and Harry Leask finally took the first-ever Olympic men's quad medal for Britain, a stunning silver, after a 12-year long project masterminded by Paul Stannard and Jürgen Grobler but dogged by unfortunately-timed injuries. Caught up in a furious medal fight, the British kept their heads. On bumpy but fast water when the bow-man of the reigning Dutch world champions caught a small crab with one oar a minute into the race, the GB crew grabbed its opportunity and flew out into a slender lead. Two minutes later, just as the Dutch were surging back into contention past Britain, a further threat from Italy was neutralised by another crab, this time a boatstopper to the whole of the Italian stroke side oars. The British shell shot past them, and then hung on to silver behind the Dutch despite intense pressure from Australia and Poland.
"We have a rowing team with huge success, but the sculling team has a tradition of being in the shadows a bit," said strokeman Jack Beaumont. "Coming into that 250m I could see that we were ahead and it was unbelievable," said bow-man Leask. "The rush to just get that home." Barras, who announced his emergence onto the world stage with a stunning sprint to world bronze, was still coming to terms with the result. "It was just head down and belief," he said. "There have been so many races for all of us where we've just been nipped through in that last bit. We were just really believing in each other that we'd get across the line, and we did."
"It's the start of a new history, and more to come," said Beaumont. "There have been some phenomenally quick British quads," added Angus Groom, "but we've always just come a little bit unstuck at the Olympics.These medals are a thank-you to all those who have been part of this quads project building over the last five years. These medals are just as much a part of them as they are a part of us."
The quad's silver was a welcome outcome on a very difficult day for Britain, in which three finals crews came fourth inside an hour, and the men's eight and women's pair had only partial success on their way to the final. The saddest result was that of the men's four, twice European champions but untested against a threatening new Australian combination, whose bid for gold ended when steering problems sent them veering into Italy and to fourth place in the final moments of the race. The result did not reflect their speed, after clawing distance back on early leaders Australia and looking as if they could claim second or perhaps even first place with their final sprint.
"I'm responsible, I forgot the steering a little bit and that cost us a medal," said bow-man Oliver Cook afterwards. "To the lads, I'm sorry I didn't steer us the best line at the end." His crewmates were generous, trying to avoid allocating blame. "When your vision's going blurry and your body's going stiff with lactic acid it's sometimes hard to stay on the ball," said Matt Rossiter. "In the heat of the moment we just let the concentration go." The contact with Italy was very slight – a stroke at most before the Italians sped away to claim bronze – but unnerved both crews. "We fully biffed into [them]," said Rossiter. "Maybe we cost them the silver and sorry to those guys." It was a remarkable Italian bronze given that their two-man had been substituted last-minute after testing positive for COVID overnight.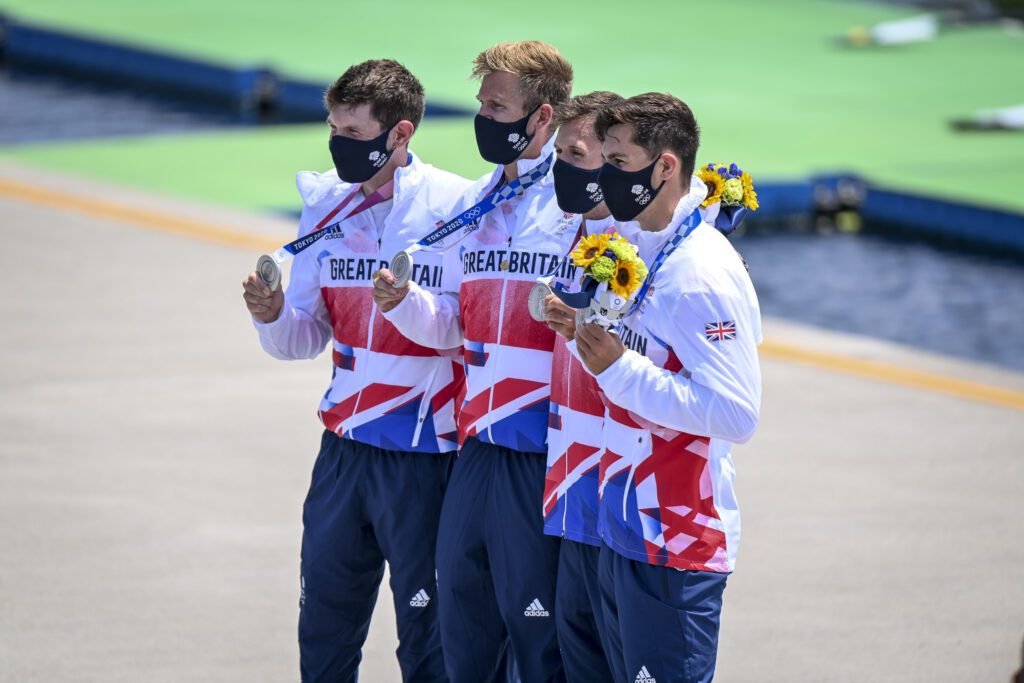 The men's double came fourth in one of the most difficult finals races, and were never quite in the race for the medals. And the women's four also missed the podium when Ireland's quartet pulled out their trademark sprint to claim bronze ahead of the British, the first Irish women's medal at the Olympics. Earlier the women's quad had overturned previous poor form to win their B-final, a triumphant finish which will lay the seeds of future success. The women's pair of Polly Swann and Helen Glover led their semi-final for 1600 metres with fierce determination, overtaken by a Greek pair who sprinted to a new world and Olympic best time, but were able to fend off the Canadians as well as Australia, who were exhausted from racing to gold with the women's four two hours earlier. Emily Craig and Imogen Grant won their semi-final in one of the most intense events to claim a good lane in the final. The men's eight qualified for the final safely but second to New Zealand in their repechage, after the Kiwis inexorably broke through a 1100m British lead, and join a final on Friday in which at least five crews will be contesting medals.