It was rebound day at the Sea Forest Waterway, with turn-arounds for several crews who had underperformed in their opening heats. Repechages are always second chances, put in for rowing "because it's an outdoor sport", but in practice nowadays used more to rectify first-round rowing errors than making up for unfair conditions. Fortunately after the antics in the previous day's eights the start boots and electronic system were now in fine fettle, so that was a plus too.
The stellar women's singles is shaking down into a pattern, Emma Twigg (NZL) and Hannah Prakatsen (ROC) clearly the quickest in the pack. Neither had any need for redemption, and won by the quarterfinal equivalent of miles. So far it's not obvious whether anyone else can genuinely challenge them, a battle between Sanita Puspure (IRL) and Kara Kohler (USA) going to the Irishwoman after a significant push, but not with the same effortless speed as the other two. The big story though in the singles was that of Nazanin Malaei of Iran, strongly improving on her less confident heat performance to clinch third place in her semi behind Twigg and Gmelin (SUI), two seconds ahead of Mexico's sculler. The result: the first Olympic A/B semifinalist ever for Iranian rowing, their highest finish now guaranteed, and a triumphant hand pointing at the sky as she glided to a stop.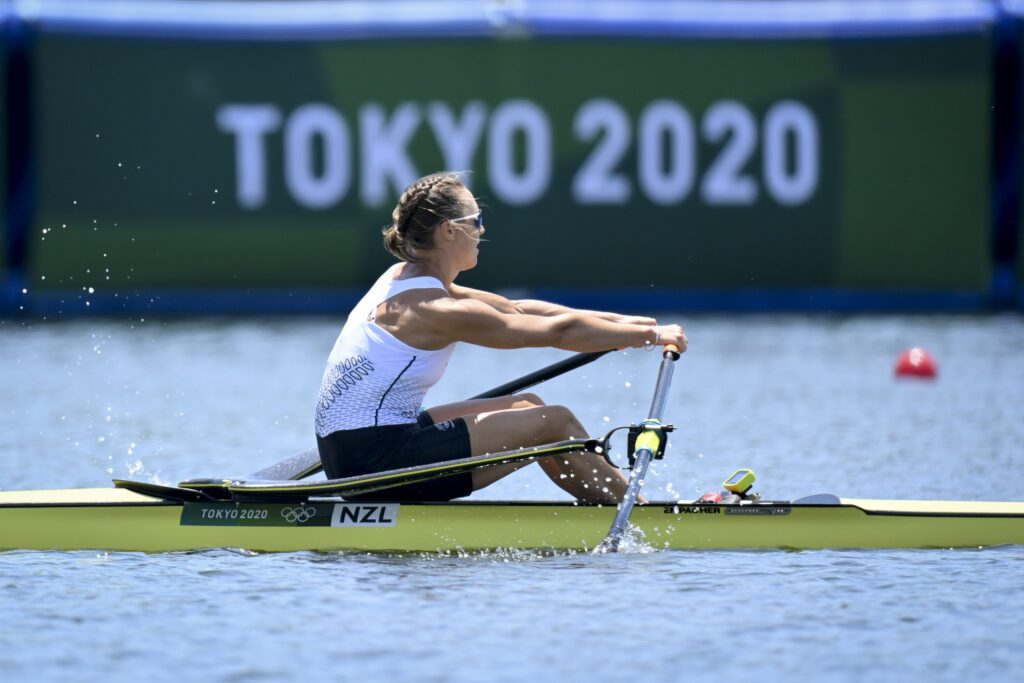 "A very long time ago, the first day I was going to the national team, the coach said to me 'you are not for rowing, you are good for cox of the eight, and you should go home'," said Malaei. "Every athlete said to me 'you can't go to the Olympics with the single, because every other country's people coming to the Olympic are heavy, very strong, and you are lightweight.' With my best result I'm showing everybody in my country that if you want a goal, you can get there, it is not hard. If you believe it yourself, you can do everything." She also, incidentally, says it's no trouble racing in a hijab, she doesn't take any notice of the heat. What a legend.
Dutch sculler Sophie Souwer had an extra distraction before finishing runner-up to Austria's Magdalena Lobnig, after the morning announcement that NED women's chief coach Josy Verdonkschot had become the latest Dutch team-member to test positive for COVID and move into quarantine. Verdonkschot had not travelled with the other Dutch cases, and is not Souwer's main coach, but she was in any case unconcerned. "We have lots of coaches around us, and years working together, and at this stage there isn't any more to do. I'm prepared." If the Czech and Dutch team cases have taught us anything it is that the virus can rip through teams fast, possibly due to incautious contact, but sculler Finn Florijn had a room to himself so should have been able to avoid infecting other rowers.
The men's singles, thinner than usual in big names, had the four biggest win the quarterfinals, meaning that Kjetil Borch (NOR), Sverri Nielsen (DEN), Damir Martin (CRO) and Oli Zeidler (GER) go into the semis undefeated. Trevor Jones (CAN) didn't trouble Nielsen, and Borch disposed handily of Greek upstart Stefanos Ntouskos, biding his time before leaning on his oars and finishing the Greek youngster off. There's an unmistakeable feeling that Borch is the one the rest now need to beat, having come to his best form with perfect timing. "I try to conserve as much energy as possible and just follow my plan", he said afterwards. "It was quite a long race because of the headwind. I just sat there and let the others burn their amount of coal, and I was just sitting there and waiting to attack." He introduced a sombre note when talking about Ondrej Synek's absence due to illness. "He got coronavirus in November I think, and hasn't been himself. It's been quite a hard reminder for me how serious this virus can affect us athletes, because we don't have a pension fund. We don't have security. If your lungs get 'f'd' you're out. He's one of the best scullers, one of the best rowers of all times, and he's out."
The redemption theme continued with the LM2x, in which Uruguay raised their game and took advantage of Portugal's off day to claim a semi-final spot the day after coming last, possibly due to bowman Bruno Cetraro Berriolo's flag-carrying efforts the night before. Both South Africa's crews (M2- and M4-) dropped off the medal pathway with last-place repechage finishes, as did China's W2- and W2x, also from repechages. Two repechage wins defying first-round hiccups came for the British M4x and W4-, each finding a renewed focus which put them back in control after fluffing their opening heats. So did Poland's men's quad, finishing second by a sliver to GBR, but much better than the day before.
The debutante British women's quad suffered one of those disasters which will live in their memories for a long time, though given all four are talented, at the beginning of their careers and likely to feature in the Paris 2024 team, they may in future look back on this day as one which fuelled gold medals. A mini-crab and loss of grip for Mathilda Hodgkins-Byrne on her blade-handle within the first few strokes, followed by some steering deviations later on, left them having to expend a massive effort to get back on terms with Australia who had led the pack out. They showed their core quality in managing it, and then fought tenaciously to stay alongside the Antipodeans for more than a kilometre with great success.
Until, that is, Italy decide to drop the hammer, blasting through both leaders in a short time and moving away rapidly, the Aussies clinging to their coat-tails while Britain could not find a new gear. As both raced off to claim the only two qualifying places, the Brits were tiring fast, shorn of their usual energy by the wild start. New Zealand came through them but both crews' Olympic hopes were over. "We gave it our all", said Brit Hannah Scott. "We just had a few hiccups along the start and that didn't set us off to the best start. The one thing I have learned is there's seconds in it, you can't afford to make a mistake and unfortunately ours just came at the wrong time."
The most forlorn press interviews I've ever seen were given by Norway's Olaf Tufte, veteran anchor of the men's quad he has guided to Tokyo. Grinding their way back from last to fourth was not enough to claim a medal final place, and the quartet manfully faced the press for a prolonged period, Tufte fighting back tears as the result began to sink in. "I'm disappointed, I feel I didn't do enough, I disappoint everybody who is behind us," he said. "At the moment I feel I let the boys down, I was supposed to take them to the final, but then again this is part of the game. We didn't cope with Olympic difficult water, the other guys managed a bit better than us. This is how good we are at 85-90%, and if you want to be on top you have to be good enough at 90%, 100% you seldom have. I'm just really sorry I didn't manage to bring the boys up. I've been here before so I'll survive — London wasn't a good experience either. But then I was alone, now I have responsibility for three other guys. It's not easy."
Lest it be forgotten, this is the 45-year-old Tufte's seventh consecutive Olympics, his first medal an M2x silver in 2000 and his last an M2x bronze in Rio alongside Borch, with the legendary back-to-back singles golds from 2004 and 2008 sandwiched in between. An unprecedented career in an energy-sapping endurance sport. Win or lose, he is an inspiration.
FISA had a difficult day too, facing up early to the fact that their predicted dire weather for Monday has now moved into Tuesday. So pulling the Monday races early had effectively been wasted, especially since the IOC said rowing wasn't allowed to shift Tuesday's original programme (which includes the quads medal finals) back into Monday to use the now good rowing weather. Medal finals are sacrosanct at the Olympics: they can be delayed, but not brought early. So instead, after some negotiations, FISA shifted the M4x finals to Wednesday along with the pair and light double semis, and bounced various singles races into Thursday and Friday. They still have the ace up the sleeve of Saturday 31st as a spare day, if needed. Monday will thus be a quiet training day for everyone, though Sir Steve Redgrave reports that the teams have been asked to move all their small boats before the expected Tuesday storm when the venue will likely be closed. Most of the eights are racked in the Sea Forest boathouse and the fours racks will be fully covered, but smaller boats would be at risk. So we wait until Wednesday to see what damage if any has been wrought.
Tomorrow: Henley in the time of pandemic – exclusive interview with Sir Steve Redgrave on the preparations being made for HRR to take place in two weeks time.