The British public tune into the rowing once every four years – although this time it's five. Jumping from Rio 2016 to Tokyo 2020 will have been a shock. No gold medals. Brits expect, demand, and effectively pay (£24.6 million this Olympic cycle) for gold medals.
The last time the Great Britain rowing team left an Olympics without a gold was in Moscow 1980. Since Atlanta 1996, when Redgrave and Pinsent returned as the only gold medal winners across all Great Britain's sports, rowing has been counted on to deliver and National Lottery funds have been ploughed into the sport to continue its success.
At London 2012 Team GB secured nine rowing medals. At Rio 2016 it was five. At Tokyo 2020 it is two. It is the second consecutive time the team has missed their medal target. Those headed to Tokyo were tasked by UK Sport with securing four medals. The Rio target range was six to eight.

At London 2012 four of the medals were gold: the British won the men's fours, women's coxless pair, women's double and lightweight women's double. At Rio 2016 three of the medals were gold: the women's coxless pair, men's eight and men's four. The Great Britain rowing team depart Tokyo with a bronze in the men's eight and a silver in the men's quadruple scull.
The system is undergoing change
In the rush to pin blame has the bigger picture been overlooked. The British team has been on track for a drop in medal count since long before Jürgen Grobler left and were sowing some Olympic headaches far earlier than the Tokyo postponement/Grobler's departure. This Olympiad saw an unprecedented dearth of British world championship gold medals and they failed to qualify the men's pair for the first time since 1968 and likewise could not qualify the women's double.
It requires a team effort to produce Olympic gold medals. Not just teamwork within the crew itself but from the squad. The more seats available the bigger the working number of athletes. Less seats available on a simple numbers approach reduces the chance of gold medals, but its impact is felt throughout the year in various selection and training guises.
GB Rowing has been a team you could bank on for medals. Success followed success with several key ingredients: a significant proportion of the squad returning for the next Olympiad; a head coach [Grobler] with a history of success; an established system and coaching set up that largely fell in line and visibly supported his [Grobler] methods; and a squad that had a strong belief in the program.
Tokyo 2020 was different for several reasons. Many 2016 Olympians retired after Rio or did not make the final selection meaning that the squad was younger and less experienced. Jürgen Grobler was at the helm for four of the last five years. The Olympic rowing cycle is set up to peak at the end of four years so when the postponement was announced and Grobler departed, not only was there the difficult physiological and psychological challenge of pulling back athletes and getting them to peak a year later, but there was also a change in programme – the coaches changed and so the training will also have changed.
The supposed dichotomy between retaining Grobler through to the postponed 2021 Olympics and developing the next generation for Paris 2024 never felt like a true either/or decision. Project Paris has been progressing well simultaneously to the Tokyo 2020 preparations, the results of which were seen at 2021 World Cup III in Sabaudia and Grobler was still invested in the Tokyo project, describing it as a "job undone". The motivations underpinning Grobler's departure seem more in line with UK Sport's more than just medals culture clean-up in the wake of bullying allegations and Purcell's brief.
There are several ways to look at the results. Did the squads underperform due to a lack of experience, the departure of Grobler, a change of programme, a four-year cycle turning into five? It will be interesting to see what Performance Director Brendan Purcell has to say. Will he say the team is young and building for Paris and beyond and that Tokyo was always going to be a blip in the forward success? Purcell's part in all this will be examined – he is after all the man in charge of performance.
Jürgen Grobler is one of the most successful sports coaches (not just rowing) of all time. I was fortunate enough to be coached by him. Lots of commentators and supporters share the views expressed by BBC race commentators Gary Herbert and James Cracknell. But would the Tokyo 2020 GB medal count have been different with Grobler at the helm – and if so, how would it have been different? We will never know. And dynasties do die.
Six fourth place finishes for GB crews at Tokyo 2020 does not make for easy reading – and its unfamiliar territory. I have no feel for what impact the Tokyo medal count will have on National Lottery funding but I expect the purse strings will tighten. What matters most now is how British Rowing management reacts to the disappointment of Tokyo. First thing Monday morning we will put in our request to speak to Brendan Purcell – and Andy Parkinson, the CEO of British Rowing. All being well we should be able to get their side of the story in time for our Issue 38, out on 1 September.

Seeds of hope and cause for celebration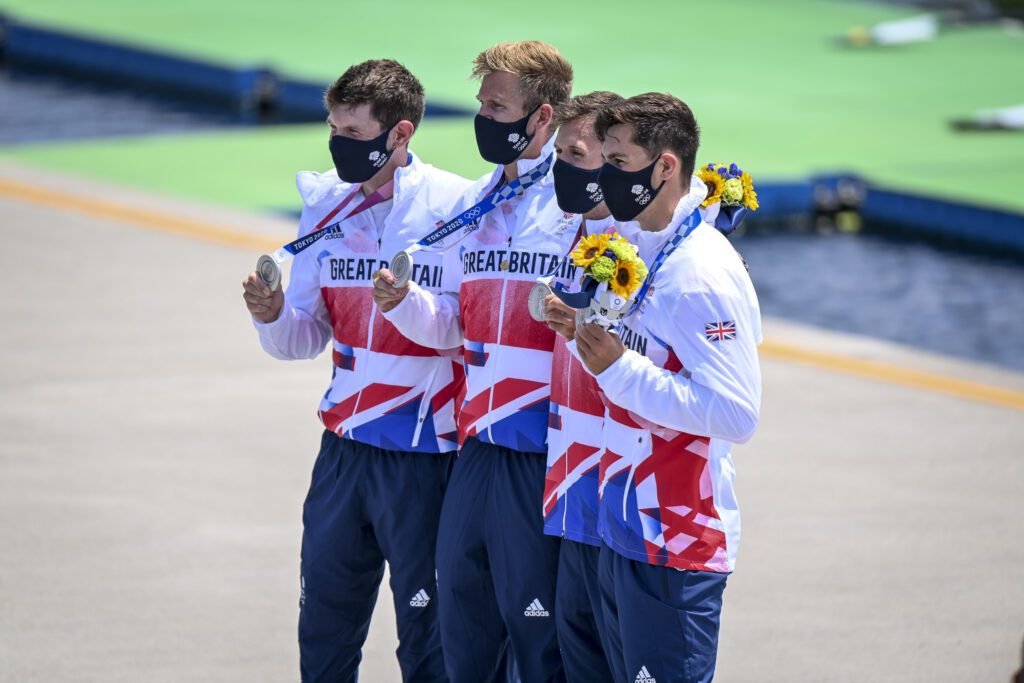 The experience embedded in the athletes that have just raced inside the pressure cauldron that is Olympic rowing will be invaluable moving forwards. Especially in the men's eight that have tasted winning at championship level via the European championships. They will be left hungry for Olympic gold come Paris 2024 knowing they are there or thereabouts.
The men's four will need some recovery time, but the development of all four guys – especially Sholto Carnegie and Rory Gibbs who are relatively fresh into the team – under the wisdom of coach Robin Williams suggests great things to come.

Watching the men's quad deliver silver and hearing Jack Beaumont reference in his post-race interview that this has been a project built on several previous Olympics and former athletes is a cause for celebration. It will be great to see the sculling side of the team draw strength and confidence from this Tokyo medal.
The women's quad won't be happy to have missed out on an A-Final but will have learnt valuable lessons and will look to step up in Paris.
Tokyo 2020 is likely to be Vicky Thornley's swansong regatta and the three-time Olympian, who just missed the podium in an incredibly competitive event, has established herself as the best women's single sculler Great Britain has ever produced. That is a cause for celebration.