China's Performance Director Sir Steve Redgrave explains the vision behind City of Oxford College's new rowing program where 20 Chinese rowers have recently enrolled. Row360 visits the school to see them in action.
Why do you have a group of Chinese junior rowers at City of Oxford College?
SR: It's important to understand that in China there aren't yet any schools that row, and there aren't any rowing clubs. There are a few universities that are starting to pick up rowing, but rowing is primarily done in the provinces. There are 31 Chinese provinces. About 20 of those row and only eight to 10 of those row to a high level. Overall there are probably about 4,000 people in total who row in China. So it's a very different culture to rowing in the UK.
The President is trying to promote rowing at every level. They want to introduce rowing into schools and make it more of a recreational sport. Until now, people have only rowed because they have been invited by their province to row. It is seen as a privilege. If they make it into their province's senior team then they can earn reasonable money.
Now they want to try to change the entire culture of the sport from being something that you might do to earn money, to being more like the European and British model of doing it socially. That is having an effect to some extent at the university level but of course you have to be from a relatively wealthy family to go to university in the first place.
So they are trying to change the whole process. They are partly doing this by looking at what works in a number of other countries – Australia, America as well as the UK. Activate Learning's City of Oxford College was the first one to come online and we really were looking for people from the age of 16-18 to come to study. A key element of this was studying English and rowing in an English program in order to be able to return to China with a stronger sense of how rowing is done in western countries. That way they can choose which aspects of that to promote within China and expand the whole philosophy of rowing there.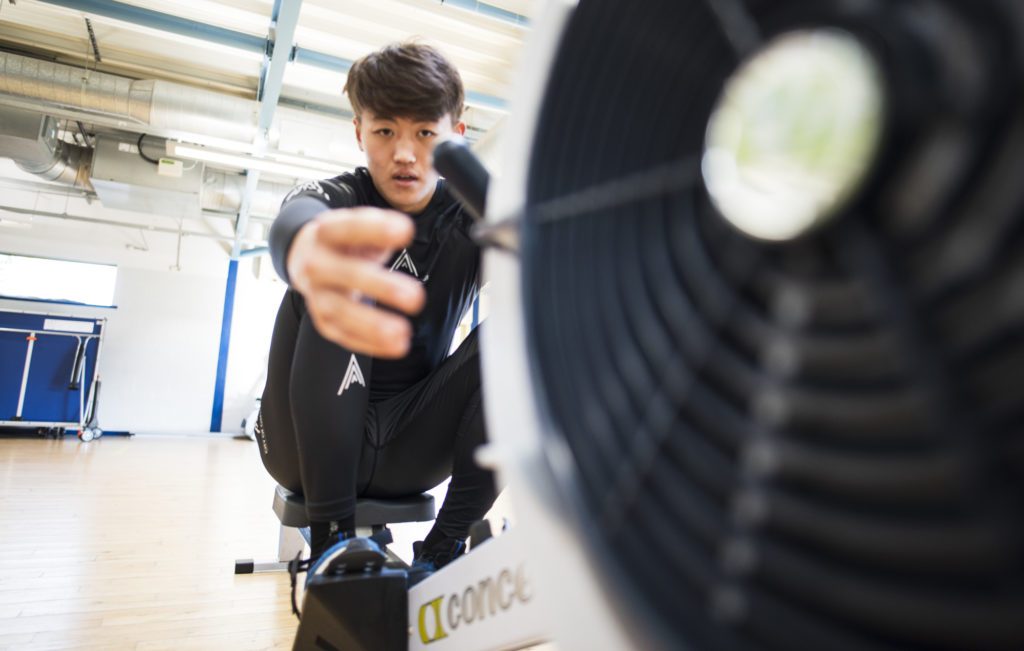 How many Chinese rowers are enrolled at City of Oxford College?
SR: There are 20 students currently studying at City of Oxford College. There are 10 Girls and 10 boys on a two-year course. They are mostly 18 or 19. We were hoping that they would be slightly younger than the students that have come in this year. The students are also rowing with other students studying at the college.
Are they spending most of their time rowing?
SR: One of the things that the students and parents want is to increase their language proficiency so that they are able to stay in the UK for university. So primarily it is about education, but it is an opportunity that they have gained through their rowing ability.
The other thing to bear in mind is that when you only have 4,000 people rowing in a country, they are already rowing at quite a high level. The irony is that they are actually doing less rowing now in Oxford than they would be doing if they were still in their provinces. In China they would be studying and living at their boat club.
Their training programme is a similar volume and intensity to most junior setups in the UK, with athletes training 5-6 days a week and having to fit their training around quite a demanding academic schedule.
Are they mainly junior internationals?
SR: A few were at the junior worlds last year. We really wanted them to be younger than that and not yet have been to a Junior World Championships. But since it was the first year of the project, they found it difficult to get the younger athletes to sign up because they're only just getting into the sport. That means they're only just beginning to leave their homes to go to a province setup. The move abroad was perhaps too daunting for them at this stage.
My hope is that if this carries on, and there's a similar scheme in Australia and Boston in America then it will start to attract younger athletes. This program has attracted a bit of controversy in the UK simply because people have looked at the athletes we have here and noticed that some were at the junior worlds last year.
But the fact is that only six of them are still eligible for junior worlds this year, two of the boys – one from the quad that finished 13th and one from the pair that finished 18th and four women, one from the double that came second and one from the four who won gold. The other two were not on the team at all last year. So only four who rowed at the junior worlds last year are eligible to row in the juniors again this year. In fact a lot of these athletes are 18 or 19 and the bulk of them will now be aiming for under-23 selection.
What qualifications are they studying towards?
SR: The Chinese rowers are studying a full time course in English For Specific Purposes as their prior attainment was not of a high enough level to do A Levels or a vocational BTEC qualification. Other students within the programme have access to a range of A Level and BTEC qualifications.
Will this mean you need to run your selections trials for the Chinese junior worlds team here in the UK?
SR: The group currently enrolled at Activate Learning's City of Oxford College only contains six athletes who are the correct age to race at the Junior World Championships. The other athletes will aim to race a U23 level this summer if they are of the right standard.
The senior Chinese team is very young. In the senior team for the Olympics we have only two athletes over the age of 30. Most are actually around the under-23 level. That makes our under-23 team relatively weak because if they are any good they are moved straight into the senior team. It was a similar scenario in the British team when I came into it as a young athlete in the Seventies and Eighties. I never did under-23s because I was moved straight into the senior team. Greg Searle in fact did senior worlds the same year as doing the junior worlds. And most of our under-23 Chinese team are studying at universities in America currently and coming back for trials. This all makes it difficult to figure out how it actually will work in the long term, especially if we have junior athletes at three schools between the UK, US and Australia. As performance director I would love to have a clear idea of that but right now I don't really know.
Why City of Oxford College?
SR: One of my friends, Eric Sims, who is the Kanghua agent for Chinese boats in the UK, had been talking to me for a number of years about bringing students from Chinese universities to do summer rowing courses. That idea evolved over a period of time from being a summer training camp to a two-year course. Activate Learning already had a number of Chinese students at its City of Oxford College and it made sense to expand on what they already were doing with this rowing program.
Who is coaching the students?
SR: Ben Murphy, a former Oxford Brookes student, is now chief coach of City of Oxford College. There are two Chinese coaches here who are also developing their coaching skills and acting as their guardians and one translator who has no background in rowing. That means that the program is also helping the Chinese translator and two coaches to develop their skills.
Where do they train?
SR: They are training out of the Oxford Brookes Boathouse in Wallingford which is an extension of a 15 year + facility sharing agreement City of Oxford College has with Oxford Brookes University. However the college has invested in all their own equipment as well as recruiting a full time coach and a couple of part time coaches.
Did City of Oxford have a rowing team before the arrival of the Chinese?
SR: City of Oxford College Boat Club was set up in January 2019. Before the Chinese group arrived in October 2019, two Irish boys and one British girl had taken up rowing at the college and now race together in crews with the Chinese athletes.
Do you personally oversee any of their training?
SR: When I am back in the UK, which is very very rare. I am actually back this weekend but I don't know if I will have time to go and see them. I try to keep up with what they are doing racing-wise and training-wise, but I don't keep up with their day-to-day training scores.
I do get updated with how their English is coming along though. I have found typically the girls have always been quite motivated about trying to develop and speak their English but the boys have tended to keep themselves to themselves. However when I was there in December it was interesting to see the boys were starting to be more keen to come over and try and talk to me. It was striking that even after a few weeks their confidence with English had greatly improved.
Is the plan for them to compete in the full school racing calendar? National schools etc?
SR: There is a debate going on at the moment about what they should and shouldn't do in terms of racing. I can speak with more authority about Henley, because I am involved with the Regatta, than I can about national schools. From Henley's point of view, let's say a junior national team four wanted to row together there, we would make them enter an intermediate rather than junior event.
However we don't have a junior worlds eight or four at City of Oxford College. So that shouldn't be an issue. But there is still a discussion about would be acceptable for us to enter. We are not here to win all the British domestic events. And if we had stuck to the original plan of having younger Chinese students then this wouldn't have been an issue because none of them would have been junior world's athletes. As it stands there are certain junior world's athletes in the team, so from Henley's point of view we will only allow them to race in the events for which they meet the criteria.