You can't tell an athlete when to retire," says Pete Reed.  The triple Olympic champion announced the sudden end to his career today, after realising nine days ago that he no longer wanted to continue in the sport until the Tokyo Games.  "I'm really relieved and happy," he added.  "I just couldn't see that I was making good and fast enough progress to be back at the top of the team.  I've had such tremendous support, and lots of people would want to see me do it and still stick it out.  So there's a small part of disappointment but it's only really small.  It's the end of an era."
Crunch point came two weeks ago, when Reed did the 2km erg test he has been preparing for since going through prolonged rehab after two repair operations on his hips in 2017. This was a big test, to find out if he could cut it at the top level, if he was fit for full selection. "I got a 5:54 actually, but the only two people who weren't happy with that were me and Jürgen [Grobler]," says Reed. "Everyone else was saying 'good progress, that gets you there'."
By a quirk of luck, this year's GB squad has a surfeit of bow-side oarsmen, and the result, though very encouraging, put him in a pairs matrix for the last two places on bow side ahead of this coming weekend's final trials.  "I raced with the bottom guys in the team and came last.  Not by much, but it's still last, and the guys above me formed two pairs for trials.  It was very fair, the rules were that the bowsider who doesn't make a pair will go in a single for final trials."
Reed had a quick meeting with Grobler, who told him to go away for his day off, and come back on Monday to talk about sculling.  As he left, he honestly expected that to be the plan.  But as he drove back along the M4 to his home in Chiswick, other ideas intruded.
"I drove that Saturday just thinking about all the other things I could be doing, and thinking about what I'd been through to get there after Rio", says Reed.  He also took the time to call Fred Smallbone, the 1976 Olympic medallist who coached him at University of the West of England where his career began, and who has been his mentor ever since.  "It was just to chat things through with him – it's a big decision and I really hadn't given it too much thought.  But he said to me 'it sounds like you've made your decision already'.  And by the time I got home I kind of had."
"For me it just feels like the right time.  No-one could have said 'you've got to retire after Rio because this just isn't on'.  As it happens they would have been right, but I wouldn't have believed them.  I needed to figure it out for myself.  Hopefully I'll be an old man one day and I'll look back and won't have any regrets.  I won't be thinking to myself 'could I have gone to Tokyo?'  And the answer is 'no'.  I gave it my best shot and I didn't want to be at the bottom of the team.  I didn't want to be in the bottom group of bow-siders trying to make a boat, I wanted to be right at the top of the team.  Speeding crews up, helping them win Olympic gold medals.  I couldn't see a way back."

The last 20 months since Rio have been challenging.  Returning to training in December 2016, Reed discovered that niggling hip issues had become chronic, and he needed surgery to repair them or risk serious health and mobility issues for the rest of his life.  He had the operations – sci-fi stuff involving harvesting his own bone marrow stem cells and using them to glue his damaged labrum cartilage back together – in January and March 2017.  They were successful and nobody saw any reason why he could not compete again.  Rehabilitation was slow, meaning he had to miss the Sarasota world championships, but went smoothly.  Except for one change.
"The only factor is that after the operation I know I couldn't row long enough," explains Reed.  "On the ergo I was noticeably shorter to the cage, and on the front end in the boat.  If you're five degrees off on the front end, you're in a different race.  I could have carried on working my hips and training them to get that flexion to get the range on the front, but maybe, maybe not."  He refuses to see the injury as an excuse to retire, as many other factors played a part.
"I feel like my physiology was coming along really well, but my anatomy probably would have let me down going forwards.  But even if anatomy was taken out of it, your head and your heart have to be in it, and that was the big deciding factor.  And now that I've stopped one of the things I've noticed is that I haven't got as many aches and pains in my hips."
The rehab, and the numbers problem, did mean that Pete didn't get as much time in the boat as most this winter.  "The team went away to Aviz, Portugal recently on a big-boat rowing camp, again Jürgen had too many bowsiders and I was still preparing for the 2km erg test that I had to be good for.  So I stayed at home, worked hard in that period, but I was thinking 'this is do or die time'.  I got the training done and did it well, but it wasn't where I wanted to be.  I didn't want to be separated from the team."  And in the end, that sacrifice for 'only' a 5:54 was not enough.  "It's not a 5-49, it's not a 5-46, it's still too far off being world class," says the former erg monster.  "There was time to get bigger scores leading to Tokyo, but not if my heart's not in it, and not if my hips weren't in it, not if I can't row long enough.  That all became apparent, so I can leave happy."
Reed found the sport in spring 2000, as a 19-year-old officer on a university naval scholarship who had never even touched an erg.  "The first time I used a rowing machine was flat out for 1km on the upper deck of the HMS Exeter while operational out in the Gulf.  About 50 degrees, piping hot.  They have a fleet-wide ergo rowing test over 1000m.  The PTI said just go hard as you can as fast as you can, and I got a 3:05.  I even remember my splits, though I didn't know what splits were back then.  I remember seeing some 1:20s, some 1:27s, by the end I was seeing 1:55s and 1:57s.  It was the best time in the fleet that year."
The captain, a former rower called Commander Bennett, took the time to tell the teenage Reed that he should join his university rowing club.  The next year he did, and within four years was in the senior team.  In 2005 he became world champion, the first of eight world and Olympic titles and numerous medals.  Now he plans to return to the Navy – though they have not yet discussed in what role – to give back to the organisation which has supported him so well throughout three Olympiads of elite sport.  "It would be very interesting to find out if I've got the capacity and inclination to do a proper job for the Navy.  I think I could work hard and earn what I get, and whether that's in recruitment, sport, or mentoring – I'd need to re-militarise.  Get back into that military life, and that would take a bit of time.  I've considered doing some kind of training with the Royal Marines as well, while I'm still fairly fit and just about young enough to keep up.  I don't know if that is possible."
Eight days ago, having made his momentous decision, Reed returned to Caversham, hugging his secret to himself.  "I had a nice day on Sunday, then went in on Monday knowing that it was going to be my last day of training.  I hadn't told anyone, but went to do weights, and just looked around the room smiling.  It's a young and dynamic group of guys, it's been a real privilege training with them and seeing them.  My role had changed to being a bit more of a mentor in the team.  I just saw everything with fresh eyes, a new relieved feeling, new colours.  I knew I was hearing the weights briefing for the last time, knew it was going to be my last set of squats, wearing the same weights shoes I always have."
"Between that weights session and the second session I went in to see Jürgen at Caversham after breakfast and I think he was ready to sit down and have that chat about what next.  But I just said 'I've come to shake your hand and say that's enough'.  He was happy.  He was relieved as well. He said it was a big weight off his shoulders as well.  The two of us knew.  He said he never would have kicked me off the team but he couldn't see a way back either.  And that it's important that it came from me.  We talked through things, I saw him lighter, and smiling – we had a bit of time together while the other guys were boating."
"Of course it's a fascinating meeting, because it's one I didn't ever prepare for, I didn't think about it.  Clearly I couldn't row for ever, but when you're in it, you don't start thinking about the end.  You just think about how you can do that session, and what the next goal is.  I think you are [encouraged not to think about the future] – you're a real machine when you train."
Then he sat out on the balcony at Caversham – the first good-weather day for a while – gave girlfriend Jeannie a call, and watched the team boating without him.  "The water was flat and it was very sunny.  I was happy to watch a few crews go out, having made my decision, and it felt nice.  Then I came home, I ironed my uniform, and went down to see the Navy on Tuesday."
"I've got no regrets. I know the fire wasn't burning as brightly as it was in 2010, or 2008, or 2012.  I couldn't lie to myself.  I could get through the training, but to be Olympic champion, I know what that takes, and I didn't have that same fire burning.  There's no shame in that.  For the first time I was looking back at my rowing career.  I'm very happy and proud of what I've done, and have great memories of the team, very very few regrets.  My relationship with rowing's been good, and to come out of my sport, still very passionate about it but in a different way now, that's an achievement in itself."
Unlike Australian rival Josh Dunkley-Smith, Reed has definitively closed the door.  "There's no way I'll be going back to rowing, I'm done.  I'm not going to be doing a Redgrave and coming back next year or anything like that.  I'm very very sure, and I made sure I was sure before I spoke to Jürgen."  He has six months of support from the British Rowing Performance and Lifestyle programme, which helps athletes transition into retirement, and intends to take full advantage of that.  "There's a package, lots of expertise, things like looking after your mental health – lots of athletes come out of sport and really struggle, understandably.  They also do practical things like getting your CV sorted out and getting you courses.  I'm so pleased they've got that in place.  If you go back to Pinsent or Redgrave era, it's 'finish sport, and that's your lot, a handshake and off you go'.  Tremendously difficult for an athlete who's known nothing but pursuing Olympic medals, with people who are pursuing Olympic medals."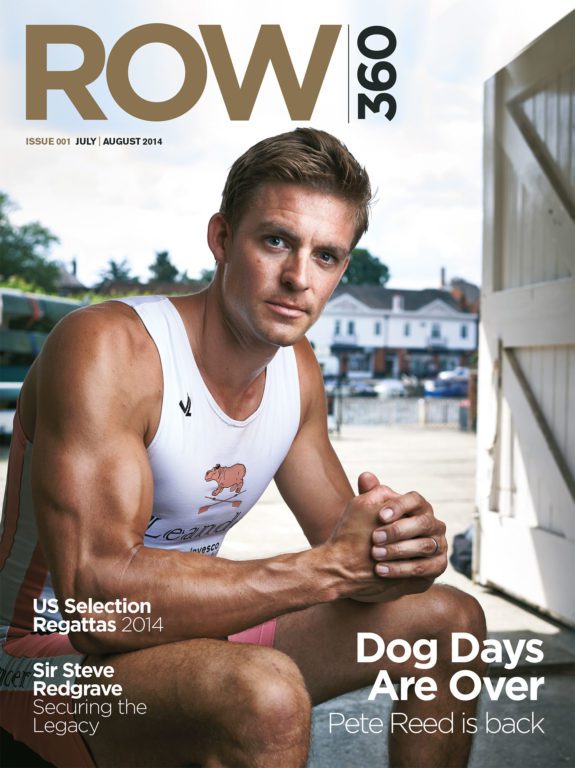 He'll miss the people in rowing, the camaraderie of elite sport and the focus of single-mindedly pursuing a goal.  "And I'll miss being fit for free, you don't have to think too much about it.  It was a real privilege to look after your body as part of what you do."
And if he could remember just one moment from a long and illustrious career?
"The final in Rio.  It was just a monstrous combination of those guys coming together."   As it happens, that was the last time Reed pulled a stroke in anger in international competition.  Crossing the line to Olympic gold on the Lagoa under the outstretched arms of Christ the Redeemer.  As rowing final flourishes go, it was a pretty good one.
VIDEO: Pete Reed talks to Row360 about his start in the sport.