As the skies of Henley-on-Thames turned a threatening grey, rowers at HRR demonstrated that they didn't care. A significant first was scored by Hereford Cathedral School, whose Fawley quad victory over Westminster on Wednesday had been the club's first ever race win at Henley. They followed that up on Thursday by sculling through Los Gatos California, a not-for-profit programme in the Bay Area, whose US success in the quads this year might have made them think they would beat Hereford. The Americans started very well, but never got more than half a length away and when Hereford started to turn the screw at Remenham, the Brits could not be denied, ending two lengths up.
The Princess Royal draw is looking very strange indeed, after New Zealand's Olympic champion Emma Twigg withdrew during Thursday morning for medical reasons. Following on the departure of Magdalena Lobnig from Austria last weekend, it opens up opportunities in the lower half of the draw, not least to GBR's Imogen Grant, racing here while finishing her medical studies before joining the national team. The scull-over in Twigg's absence was done by 2019 U23 W4x champion Molly Harding, whose luck at being straight through to Friday's racing must have been tempered by getting caught in a monster rain/hailstorm which drenched the course while some thunder was heard rumbling around the hills.
The umpire Stewards had quite a crack-down on erratic steering during Thursday, ticking off a quad, a sculler and a pair for moving too far into the middle from their Berkshire stations. It's easily done especially if in the lead, as all four were, but a stern warning from the umpire's boat just after you cross the line does make the point.
As did a series of very hard glares from three different stewards when the non-aptly named "Obedient Lady" pleasure cruiser zoomed heedlessly onto the top of the course just as UL B and Nereus were charging towards the line. The cruiser managed — just — to slide into the race launch harbour to let the crews pass, but then faffed about trying to get out afterwards, giving Messrs Phelps, Redgrave and Pinsent ample time to frown at them.
Close races were in short supply during the morning, but Kingston held off repeated pushes from George Watson's College to win their Fawley race by a third of a length, and there was an excellent row-through of Newark & Leeds by Leander's double scull. In the very next race the University of Washington's PA coxed four very nearly managed to turn over Cal Berkeley A, taking a spicy initial lead before Cal ground them steadily down to win by 2/3 length.
Later on there was a corker from Marlow vs Oslo in the Wyfold coxless fours, led at first by Marlow until Oslo grabbed the initiative with a very good push approaching Upper Thames. The final margin of three feet to Oslo paid tribute to both valiant crews, and the Norwegians now go on to meet Upper Thames, who had beaten Shandon Boat Club from Ireland by more, but in a close race and similar time.
The junior women's eights in the second year of the Prince Philip took advantage of dropping wind to set records — thank you Winter Park, Melbourne Girls' and Surbiton — but also get the prize for the best turned-out crews, with matching sunglasses, topknots, t-shirts or ribbons. Surbiton's outing against Melbourne Girls' Grammar School kept everyone on the edge of their seats, the result in doubt until the line, reached first by Surbiton but with the indefatigable Australians still coming back from in yet another push.
On the subject of kit, Maciej Zawojski was sporting a custom suit for his race against Ben Davison, which the US sculler won by 2 lengths. The unisuit, made for Maciej, his wife Agnieszka Kobus-Zawojska and her doubles partner Olena Buriak, merges the national colours of Poland's red and white with Ukraine's blue and yellow, and has a heart emblem on the front to show the Poles' support for neighbours Ukraine. The Zawojskis took Olympian and European medallist Olena in when she had to leave Ukraine at the start of the war, and are rowing in the Stonor doubles at Henley to raise awareness of Ukraine's plight.
Davison won against Zawojski mere hours before being confirmed publicly as the US's single sculler for this year's world championships. Out of the fourth-placed US men's eight from Tokyo, he won bronze at the Poznan world cup and will have to get past the talented Danish youngster Bastian Secher (who is making the most of Sverri Nielsen's absence) if he wants to meet 2019 world champion Oli Zeidler in the final.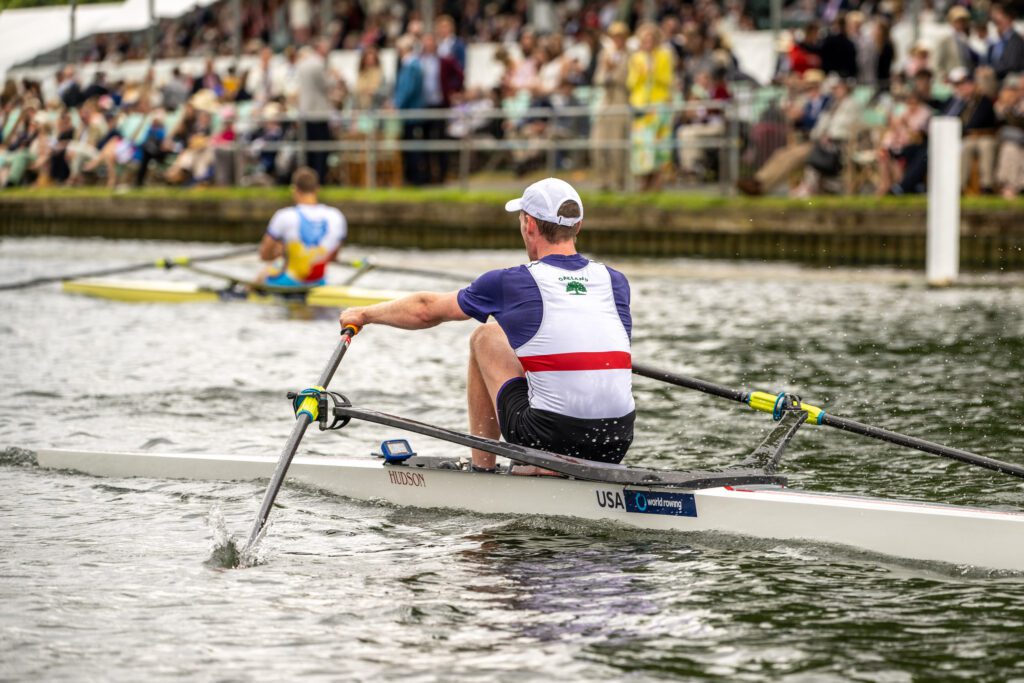 Newcastle settled a student argument by vanquishing Edinburgh in the Prince Albert after a close-fought race, and Henley's junior girls beat St Edward's School narrowly, rowing through them at halfway. Even tighter for longer was the duel between Marlow and Tideway Scullers in the Diamond Jubilee JW4x as the sun started to drop down the sky. The two ran bowball to bowball from the flag drop to Remenham before Scullers managed to edge away to a decisive enough margin of a full length.
All this and we still have three days to go. We're being spoiled.