Winning final trials does not always guarantee a successful summer. Take the 2022 men's pair final trials winners, Matt Aldridge and Josh Bugajski. Despite several shots at the British men's pair slot Bugajski ultimately missed 2022 Worlds selection. Aldridge found a home in the men's four, only to fall sick at the season finale and watched from the grandstands as his crew won gold with a sub onboard. Bugajski has since retired but Aldridge is expected to race this weekend with Tokyo 2020 Olympian and 2022 world champion Sholto Carnegie.
All of our coverage from 2023 Final Trials
Who will win GB Rowing April Final Trials in the men's pairs?
This year Ollie Wynne-Griffith and Tom George are the stand out combination – they came close to winning final trials in 2022. The Tokyo 2020 Olympic M8+ medallists formed their partnership last year at Cambridge University Boat Club (CUBC) after Ollie Wynne-Griffith switched to bowside. The duo had a successful season on the international stage: they won two World Cup gold medals, made the final of the Goblets at Henley Royal Regatta (HRR), and secured a European Rowing Championship silver medal before rounding out the year with a bronze at the 2022 World Rowing Championships.
Their closest competition is likely to come from Morgan Bolding and Rory Gibbs, who are former Brookes rowers and 2022 M8+ world champions. They went undefeated as the bow pair of the British eight last year. Bolding is a natural born boat-mover who almost qualified a pair for Tokyo 2020 at the last chance regatta in Lucerne, Switzerland. Gibbs and Bolding have been trading blows (on the water!) with George and Wynne-Griffith all week, according to a Caversham insider.
Competition will be fierce though, and unless illness or injury eliminates any more crews a place in the A-Final will be hard to come by. Many of those set to race are proven winners capable of withstanding the unique stresses of internal selection. Past final trials winners racing this weekend include Aldridge, Gibbs and James Rudkin.
Rudkin, who finished third in February with Carnegie, makes a new (yet familiar) pairing with Thomas Digby. Digby and Rudkin were six and seven seats in the gold-medal winning British eight last season. Their M8+ strokeman Tom Ford has struggled with a back injury of late but is set to race with the former Oxford Blue and British M8+ five-seat Charlie Elwes.
Olympic medallist Jacob Dawson returns after a life-threatening, pulmonary embolism wrote-off his 2022 season. Fighting one's way back into the team is never easy, but the departure of two of Dawson's winter M2- partners has hardly helped. (Ryan Todhunter and Matt Rossiter, with whom Dawson won November trials, left rowing for America's Cup cyclor glory.) This weekend Dawson partners Oli Wilkes.
Last year Wilkes placed seventh at final trials with Lenny Jenkins. Jenkins sidestepped GB national selection and (unsuccessfully) pursued a spot with the New Zealand Rowing Team. Dark Blue rumours suggests he might feature in the 2024 Boat Race.
Former CUBC President and world champion Freddy Davidson partners European champion David Bewicke-Copley. David Ambler, the super-sub who saved the men's four in Racice, would have raced with James Robson, but for a medical exemption. The bow pair from the golden men's four, Sam Nunn and Will Stewart, finished sixth in February and are another strong squad pair keen to keep Caversham-outsiders at bay.
It is a big ask to oust established squad pairs but the best of the rest fighting for their chance of a post-trials seat race include Brookes' Jack Pryor and Matt Heywood (fifth at February winter trials) and Leander Club's James Vogel and Felix Drinkall. Drinkall will hope he has fully recovered from the 2023 Boat Race. Likewise, CUBC's Oliver Parish and Luca Ferraro who are still eligible to compete as Under 23s.
Who will win GB Rowing April Final Trials in the women's pairs?
Injury and illness (including several Covid cases) have derailed some of the women's pairs. A silver lining for the women's Head Coach, Andy Randell, is that he already has a deluge of data because his programme does not shy away from intensity. The British women's squad smash out a frightening number of side-by-side pieces, week in week out. The first hurdle for the women will be a 2k erg test on Friday!
Comeback Queen Helen Glover and world champion Rebecca Shorten are the strong favourites to win final trials. They won February trials and have been topping the timesheets in the run up to this event. A win this weekend could see Glover and Shorten establish themselves as the British pair* or lead the charge to defend Great Britain's world title in the women's four – a title won by Shorten who stroked her crew to victory in Racice last summer. They could even double up in the women's eight later in the season to strengthen the prospect of qualifying both boats for Paris 2024.
Last year's European silver medallists Emily Ford and Esme Booth, have not stayed together. Booth partners Tokyo 2020 Olympian Rowan McKellar to make a formidable duo who were on course for a tough race against Heidi Long and Emily Ford but unfortunately Ford is not expected to race due to illness. Also out of the running for medical reasons is Ford's February winter trials partner Chloe Brew. Likewise, world champion Sam Redgrave is recovering from finger surgery. No doubt Redgrave will be pushing to re-join the team this summer.
Helen Glover is not the only Tokyo Olympian making a comeback. Hattie Taylor has struggled with injury this season but will race with Annie Campbell-Orde who finished third last year with Leander's Sophia Heath. It will be Taylor's first final trials since taking a year out after finishing fourth in the women's four at Tokyo.
Taylor's Tokyo teammate Karen Bennett, who also won an Olympic W8+ silver medal at Rio 2016, will provide tough competition. This weekend Bennett partners European silver medallist Lauren Irwin. Irwin and Bennett came sixth in February.
Flo Donald who placed seventh at February trials teams up with Tokyo Olympian Rebecca Edwards. They may have lost some ground in the interim but come race day they will hope to deliver.
*The women's pair might be a more open event after the retirement of New Zealand's Grace Prendergast. However, the Dutch are quick and Australia are capable of producing a fast pair – Olympic champion Annabelle McIntyre has "unfinished business" according to The West Australian.
Who will win GB Rowing April Final Trials in the women's single sculls?
Like their sweep counterparts the women's sculling group are struggling to stay afloat. Those expected to be on the sick/injured list this weekend are Lola Anderson, Lucy Glover, Jess Leyden, Meg Saunders and Saskia Budgett. All top ten performers in February.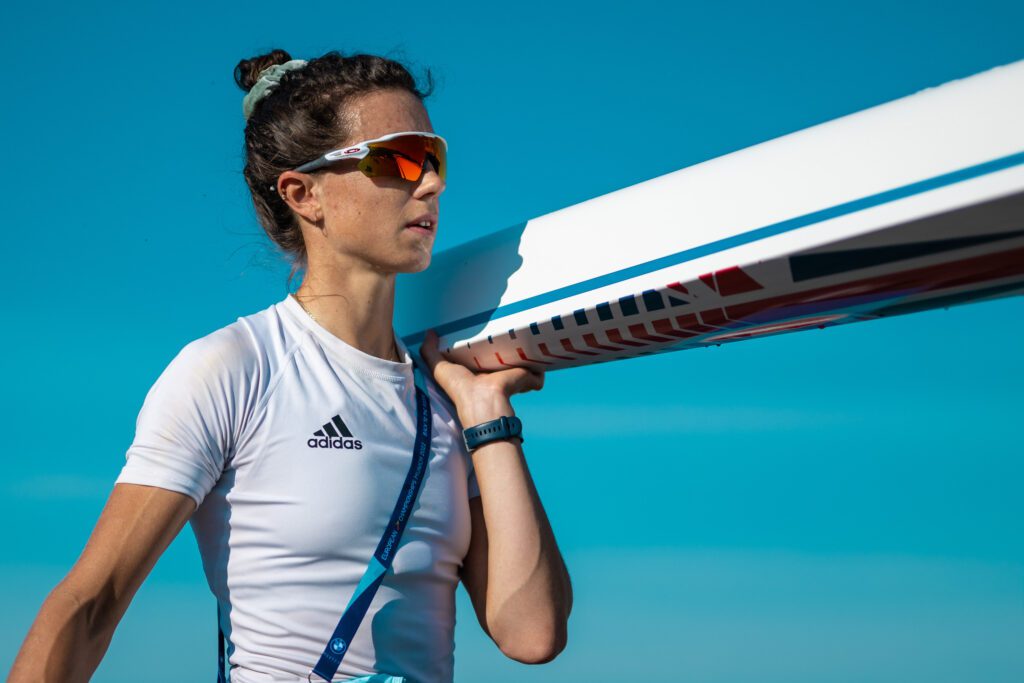 So, from the bronze medal winning 2022 Worlds W4x only Georgie Brayshaw will be racing this weekend. European champion Brayshaw won winter trials in February by beating Anderson by 13 seconds. The Leander Club sculler comes from Yorkshire and her main opposition this weekend might be Northern Ireland's Hannah Scott.
In a brutally competitive field of top international scullers Hannah Scott more than held her own last summer. After making her Olympic debut in the women's quad at Tokyo, Scott spent last season in the single scull, winning a bronze medal at World Rowing Cup I and finishing in fifth place at Racice. She finished fifth in February and will be hoping for a strong performance this weekend.
One of the few openweight scullers still standing is Kyra Edwards. She spent last summer in the double with Budgett and made the A-Final at the European Championships before coming eighth at Worlds. At February winter trials she finished thirteenth.
Leicester Rowing Club's Lauren Henry placed third at February trials. She is a ruthless racer and is still eligible for Under 23s. Henry has twice represented Great Britain in the single at the Under 23s and on both occasions finished fourth. Aged 19 she beat Olympic gold medallist Andrea Proske at 2021 Henley Royal Regatta on route to the final where she lost to Lola Anderson.
Don't rule out the lightweights! They will compete side by side with the openweight scullers. Cambridge's Imogen Grant was the fastest lightweight at the February trials and came fourth overall. Grant has the added distraction of completing her medical studies and an exam the Monday after trials means she is juggling revision. She's no stranger to victory nor beating bigger, stronger scullers as seen at Henley last year.
Grant's Tokyo 2020 and 2022 Worlds teammate Emily Craig has, of late, been setting alight the timesheet at Caversham. The inter-boat rivalry between crewmates Grant and Craig will more than likely see many openweight sculling scalps taken.
Another lightweight to watch out for is last year's GBR Under 23 lightweight single. Olivia Bates is the outsider adding pressure to those training in the squad. The Notts County rower, who is studying for a degree in veterinary medicine at the University of Nottingham, finished eleventh in the February winter trials at Boston, Lincolnshire, just one place ahead of Maddie Artlett.
Twickenham's Vwaire Obukohwo and Queen's University Belfast Ladies Boat Club's Molly Curry are two Under 23 eligible scullers expected to miss the racing for medical reasons.
The burgeoning sick list provides opportunities for up-and-coming athletes to stamp their mark on the event.
Who will win GB Rowing April Final Trials in the men's single sculls?
Big name absentees from the men's single sculls event leaves the door open for a new winner to be crowned but even with a stacked sickbay reaching the podium this weekend will be tough. Margins between the top spots could come down to race day conditions.
Two-time Olympian and world medallist John Collins last won final trials in 2017. He is on a mission to regain ground after slipping into the role of spare for 2022 Worlds. A third place finish at February winter trials shows promise.
Former Under 23 world champions and 2022 world M4x silver medallists George Bourne and Matt Haywood are also strong contenders tussling for the top spot.
Twickenham's Callum Dixon finished fourth in February. He followed the not-in-vogue path of leaving sailing for rowing and made his international debut last summer taking fourth in the single at the first world cup. Like Dixon, Aidan Thompson is a World Class Start sculler with an impressive engine who hopes to step up and scrap with the more seasoned sculls.
Harry Glenister is the weekend wild card. Sick of his fortunes in the sweep group he goes it alone in the single scull. A talented oarsmen with a HRR record that shows he knows how to handle two oars at a time. Certainly, one to watch. Whereas the newly converted sculler and former Boat Race winner Tobias Schroder is not expected to race this weekend due to illness.
Tokyo 2020 Olympian and Lucerne Regatta winner Graeme Thomas made an impressive international debut in the men's single last year, winning a world bronze medal behind Olli Zeidler and Melvin Twellaar. He would have been gunning for a fourth consecutive final trials win but sadly he is on the sick list. So too is the Olympic silver medallist and February winter trials winner Tom Barras.
Barras's Tokyo teammate, Harry Leask, is another sculler out of the running but for entirely different reasons. He set sail for horizons new, following Rossiter's lead and signing up with TEAM INEOS.
Seb Devereux finished fourth at last year's final trials and went on to make his senior international debut in the men's quad. He has made significant physiological improvements this year and could be eyeing a place on the podium.
Devereux's brother Miles is an Under 23 eligible sculler who finished fifth in February trials and has shown impressive skills. His Leander clubmates Rory Harris and Oliver Costley are also worth watching.
The lightweights will be competing alongside their beefier brethren and Edinburgh's Dale Flockhart was the quickest lightweight in February and at last year's final trials. His training partner Dan Jones will hope to stay ahead of Strathclyde's Ben Parsonage, as he did in February.