Good conditions prevailed on the third and final day of racing at Zagreb, Croatia. Sunday's racing schedule consisted of six B-Finals followed by twelve medal races. History was made by Virginia Díaz Rivas who became Spain's first ever world rowing cup gold medallist in the women's single sculls, Croatia's Sinkovic brothers won their 50th international medal, and Chilean women's rowing celebrated their first win at a world cup.
With only a gold and silver medal on offer in the three boat women's pairs A-Final, it was a race not to be last. Sadly for the locals it was Croatia's Jurkovic sisters who were unable to get a foothold in the first A-Final of the day.
Spain blasted out at 45spm and, as the quickest starters, established an early lead, but the Czech combo clung to their coattails through the first kilometre. The Czechs began to claw back on Spain during the third quarter.
As the red buoys beckon steering issues hindered Spain and a brutal fight for gold ensued. Spain held off the Czech silver medallists by less than a second. It was a golden world cup debut for Spain's strokewoman, Esther Briz Zamorano, who was utterly exhausted at the finish.
Despite errant swans and mid-race steering issues, Switzerland's new combination of Roman Röösli and Andrin Gulich made a bold start to their international season. They led from start to finish in the men's pairs A-Final and beat established Olympic combinations.
Spain's 2022 world silver medallists secured a silver medal. They were one length of clear water ahead of Denmark's Tokyo 2020 Olympic bronze medallists who denied Croatia's Loncaric twins a podium finish.
Like the Lobnig sisters Switzerland's Sofia Meakin and Salome Ulrich were quick starters in the women's double A-Final. Unlike the Austrians, Switzerland 2 faded in the second quarter, and Austria enjoyed a half a length lead.
By halfway another Swiss double, stroked by Lisa Loetscher, pressured the Lobnigs while South Africa, in third, led Ukraine. It was a tenacious, well-timed race by Switzerland 1 who raised their rate and power to open half a length of clear water in the final few hundred. Austria settled for a silver medal and Cambridge Boat Race winner, Paige Badenhorst, won bronze from the bowseat of South Africa's new double.
Row360 coverage of 2023 World Rowing Cup I
A highly anticipated men's double race delivered the result many had expected at Racice last year. All eyes on Croatia's Sinkovic brothers.
The first 250m saw Spain and Croatia push to the front of the field, bowball to bowball, but the next 250m gave the locals a canvas lead. The dogged double of Aleix Garcia Pujolar and Rodrigo Cande Romero maintained overlap with the hometown heroes for a few hundred meters more, but the 2022 world silver medallists were unable to spoil a much-celebrated Croatian victory.
The Sinkovics claimed their 50th international medal on home waters to a loud, appreciative crowd. Spain took silver and Serbia 1 beat Estonia to bronze while their teammates finished fifth ahead of Ukraine. Later, the famed brothers took to social media to show their gratitude. "Thanks to all the fans at Jarun, we will surely remember this as one of the most beautiful races in our lives."
A historic gold medal for Chile who beat silver medallists Spain by a length of clear water in the women's fours A-Final. Hong Kong were not awarded a bronze medal as they finished in third and last place.
Despite a late charge from South Africa, Switzerland executed a classic men's four race plan to win gold. Switzerland's head coach, Ian Wright, watched his converted scullers build a length lead before defending opposition moves. Another promising start for the Swiss squad but they will need to hone their technical efficiency to remain competitive later in the season.
Ukraine, with 41 year-old Sergii Gryn in the three seat, were the next fastest crew in the first half but could not step on as the fast-finishing South Africans attacked for silver. Ukraine had a comfortable margin over fourth place India 1 who beat Austria in fifth and their fellow countrymen, India 2, in last place.
An internal selection battle between the two Swiss lightweight women's doubles added extra fizz to an already buzzing contest. Confounding expectations, or at least those of the commentary team, Switzerland 2 led to the halfway mark. A tenacious a battle between the two Swiss doubles stretched deep into the third quarter. Eventually the experience of Patricia Merz and Frederique Rol won out.
Sensing a spent force, Spain attacked mercilessly for the bronze medal, but Eline Rol and Olivia Nacht of Switzerland 2, held on by a slender 0.03s. Austria's Louisa Altenhuber and Lara Tiefenthaler slipped between the two Rol cousins to win a silver medal.
The A-Final of the lightweight men's double was fiercely fought but Switzerland's Raphael Ahumada Ireland and Jan Schaeuble, who finished fourth at 2022 worlds, proved too strong for their opponents. They were the fastest A-Final qualifiers and set to work demoralising the others early in the race. Spain 2 and the Czech crew blasted off at 50+spm but Switzerland slid to a one length lead. India were firmly lodged within the chasing pack.
In the second half the margins widened and Switzerland rowed home for gold. The Czechs secured second place, while Austria's Ironman was unable to prize the bronze medal away from Spain 1.
Row360 coverage of 2023 World Rowing Cup Series
A consummate Ukrainian performance in the women's quads saw the 2022 worlds A-Finalist beat Switzerland by 13s in their two boat final. Switzerland had already raced two doubles earlier in the morning.
Ukraine's men were unable to replicate their women's Midas touch in the men's quads A-final. Of the four boats racing, Ukraine were the quickest to all but the final marker.
The Swiss and Czech crews chomped at their heels in the first quarter but as the race progressed Switzerland stumbled and the Czechs rallied.
In the final quarter the high-rating Czech scullers wrestled poll position from Ukraine, and secured a gold medal. A length back the race for bronze saw the Swiss narrowly pip the young Croatian quad who had sculled themselves into third place before missing the podium by a mere 0.05s.
Racing from lanes one and two, Czechia's Lenka Luksova and Switzerland's Aurelia-Maxima Janzen were the early race leaders in the women's single sculls. Janzen recovered a fumbled catch at 400m before taking the lead in the second quarter. At halfway she pressed on but could not shake a determined Luksova. Spain threatened a length behind, and there was overlap between the trailing three scullers.
With 750m to go, half a length separated first and second, and second and third. Janzen's lead initially shrank as Luksova attacked in the final quarter, but Janzen found another gear. Bulgaria and Spain closed-in sensing a podium opportunity from the aftermath of the Czech-Swiss battle.
With 300m to go Janzen unleashed her sprint finish, snubbing the Czech and Bulgarian threats. Her lead briefly stretched to almost three-quarters of a length before succumbing to a charging Virginia Díaz Rivas. The Spanish sculler's timing was sublime: she snuck through to finish first on the surge of her final stroke. Luksova won bronze ahead of Bulgaria.
Díaz Rivas, 31, showed her emotion on the podium while her coach jumped for joy. She's the first Spanish women's single sculler to win a world rowing cup gold medal.
It was a dominant performance from Ollie Zeidler in the men's single sculls. Within a minute the German world champion had pulled alongside Denmark's quick-starting Sverri Nilsen, and proceeded to build an open water lead through to the finish.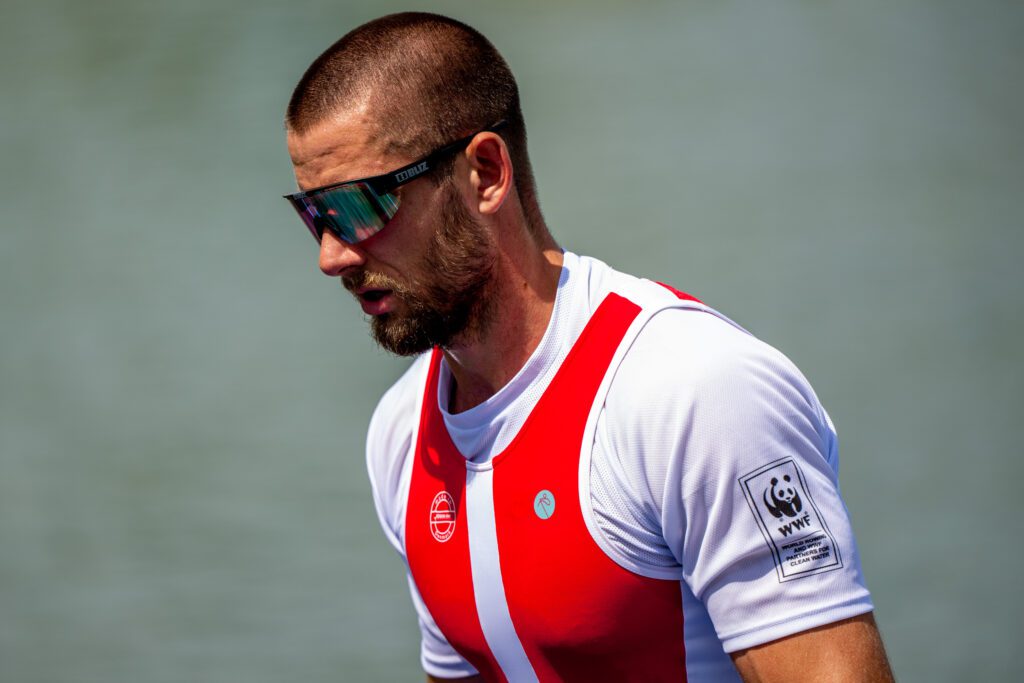 Spaniard Gonzalo Garcia Ferrero briefly kept these battling-giants company but paid dearly for his early effort, finishing in last place 23.5s behind the winner and 11s behind fifth place Bastian Secher. Secher, racing as Denmark 1, will likely need to find a new boat class (and teammates) for the rest of the season, perhaps in the men's double or four.
Nilsen and Zeidler had their own private battle at the front but the fight for bronze was a close one with Serbia's newly acquired sculler, Nikolaj Pimenov, getting the better of Bulgaria's Kristian Vasilev.
2023 World Rowing Cup I, day three in pictures
B-Finals
The morning started with wins for Slovenia's men's pair and Argentina 2 in the men's double. The Indian double sandwiched themselves between the two Argentine doubles, pipping Argentina 1 on the line by just 0.03s.
Switzerland's Pascale Walker walked the B-Final of the women's single sculls, securing a comfortable win ahead of Hungary and Thailand. Diana Dymchenko might have provided tougher opposition but withdrew prior to the race for medical reasons.
Damir Martin pleased the local crowd by winning the men's single sculls B-Final. He gave a quick glance at his opposition before moving from third to first place place in the final 500meters. Slovenia's Isak Ivam Zvegelj led for most of the race but faded to last place. Moldova's Ivan Corsunov finished second ahead of Hungary's Bendeguz Petervari-Molnar who was less than 0.4s ahead of the blanket finish between Bulgaria's Emil Neykov and Finland's Olli-Pekka Karppinen.
Last year's Asian champs LW4x silver medallists Matinee Raruen and Parisa Chaempudsa secured a win for Thailand in the lightweight women's double sculls B-Final against Hong Kong.
Iraq's Ezzulddin Haayali and Mohammed Al-Khafaji produced an incredible performance to win their B-Final 3s clear of the Estonian lightweight men's double sculls.