The 2022 Boat Race made a successful return to its London home, and it was two wins apiece for the two universities. Blondie and the CUBC women's blue boat added an extra year to their winning streak, while the Oxford men dominated on The Championship Course.
Murder on the mind
A clean start from the Cambridge women put Oxford under immediate pressure. Before the end of the Putney embankment the light blues had stolen three seats and crept towards a healthy half length lead.
The two boats rounded the apex of the first bend, outside Fulham FC's Craven Cottage, and slow-starters Oxford were living every Surrey-station crew's worst nightmare. Doubling down on a slick start, Cambridge pushed to rhythm and punched home their early advantage.
It was at this point the race took an edge-of-your-seat type turn and what might have been shaping towards an easy win for the light blues became anything but. With barely a canvas of clear water the Cambridge cox, Jasper Parish, dived across for the overtake. It was tight, yes, but was it too tight? The actions of an overeager cox taking needless risk, or the manifestation of race-winning killer instinct?
Umpire John Garrett warned Cambridge repeatedly but Parish stuck to his line. Dirty water only added to Oxford's woes. The dark blues showed real tenacity, as previously demonstrated in their Trial VIIIs and fixture series. They are made tough, and the Oxford women launched a steely defence, relentlessly pushing for contact. Light blue fans were treated to a horror show of nervousness as they watched their side tread perilously close to an instant foul.
Garrett, the only umpire to have disqualified a Boat Race crew in the modern era, continued to warn Parish. The Cambridge cox took several looks back to check on his dark blue opposition who remained doggedly close, just off his stern. At Hammersmith Bridge the margin was 3.8 seconds. And it wasn't until after St. Paul's (Parish's former stomping ground) that Cambridge finally got some breathing space.
At the finish Oxford appealed. "He [Parish] was cutting right across us, before there was even a length of water, and they weren't moving away at that point – they were holding us. That is quite a big hinderance," said Joe Gellet to race umpire Garrett, who replied:
"I'm afraid that doesn't constitute a disqualification. It was aggressive steering – I agree with you, but it is not a disqualification offence".
After the race, on the hard outside Mortlake, Parish conceded he'd, "certainly pushed the limits" but said, "…at the end of the day the Boat Race rules are quite lenient on moving over. I think the only way you can really be disqualified is by making contact and I don't think there was ever a point in the race where I was seriously worried about that".
Cambridge Head Coach Paddy Ryan was worried. "I came off the launch and ran up to Jasper and said, I love you but I want to kill you! That was so stressful from launch. …it was tight, and Oxford did an incredible push to comeback."
"I said they are going to have to be really good to beat us – and that's what they were," said a tearful yet gallant Anastasia Posner; who, for the first time in five races tasted Boat Race defeat. "We raced really hard. We both got course records – obviously theirs [Cambridge] is better. It was a tough race – they cut across us really early so we were in their wash for most of the way. We fought all the way. We put together a good race, but obviously [losing] is disappointing, that's not what we came to do."
The Final Chapter
Knives to a gunfight. Cambridge could not live with Oxford's power, but even though the result of the Men's 2022 Boat Race was unequivocal – a win for the dark blues – one question remains unanswered; why did Cambridge choose Middlesex?
Intrigue escalated when Cambridge won the coin toss and chose Middlesex. An approximate guide for those uninitiated by the quandary faced by a Boat Race President, is as follows; consider all options, agonise over every possibility, cogitate, deliberate and finally make your decision. Then, no matter what: Always. Choose. Surrey.
So, when Marcus trumped for Middlesex it meant the light blues anticipated the race going the full distance. Hang tough around the big Surrey bend through the middle of the course at Hammersmith, and a Middlesex crew will be rewarded with a last gasp advantage at Barnes. With the fitness and pedigree of modern crews it is not an unreasonable proposition, and a real spectator treat as per the men's race in 2002. But it was not to be.
Although not seen on the BBC footage, to my eyes (riding shot-gun in the press launch) Cambridge were imperfect off the start. The first stroke was a touch disconnected, fudged and fidgety. By no means disastrous but given the raw power in the Oxford blue boat it was an edge Cambridge could scarce afford to give away.
As both crews blasted through the first minute of the race Jack Tottem likely felt the early momentum shift in his side's favour and Oxford leant-in, applying pressure from their Surrey station. Race umpire Matthew Pinsent did well to keep the two sides apart. Barely an inch tip-to-tip between the light and dark blue blades.
At the apex of the first bend, Oxford squeezed out a couple of seats despite being on the outside of the bend. It was anything but a dream start for Rob Baker's (Head Coach of Cambridge) boys. At the mile post as the two sides were buffeted by a stiff headwind, Oxford led Cambridge by 1.1 seconds. One pip of rate between them, Oxford at a chunky 35 and Cambridge whipping 36 strokes-a-minute.
As they sprinted towards Harrods, Cambridge did not look comfortable; perhaps unsettled on the lumpy tideway water, or frustrated as Oxford turned the screw. Cambridge were being asked tough questions by Oxford. For which, ultimately, they had no answers.
The decisive minute came either side of the Hammersmith Bridge. Whether it was a planned move by Oxford, or a Cambridge collapse, Oxford's long, strong, and powerful rhythm was infallible. The dark blue men stretched their lead to half-length of clear water. Marcus's tactic of picking Middlesex meant Cambridge could ill afford to have Oxford move across. With both boats line astern, the advantage of the final Middlesex bend was nullified.
Cambridge raced out the final miles but could not prevent the victory going to one of the strongest Oxford blue boats in history. It marked a return to the winning ways of Oxford University Boat Club, who also secured a win in the reserves race between Isis-Goldie.
At the finish line Olympic silver medallist Angus Groom enjoyed his final moments as an elite oarsman having gone on the record to say that the 2022 Boat Race was to be his last hoorah. Sat in front of him was Oxford's strokeman Tobias Schröder, who burst into a tearful state of exhaustion. A scene to reveal the burden of three previous Boat Race losses, and perhaps, in that moment of victory, Schröder shed his demons of defeat. "There was always a concern that perhaps his book didn't have enough chapters," said Oxford's Head Coach Sean Bowden. This year Schröder and his crew wrote a piece of Boat Race history that all dark blues will enjoy re-reading for years to come.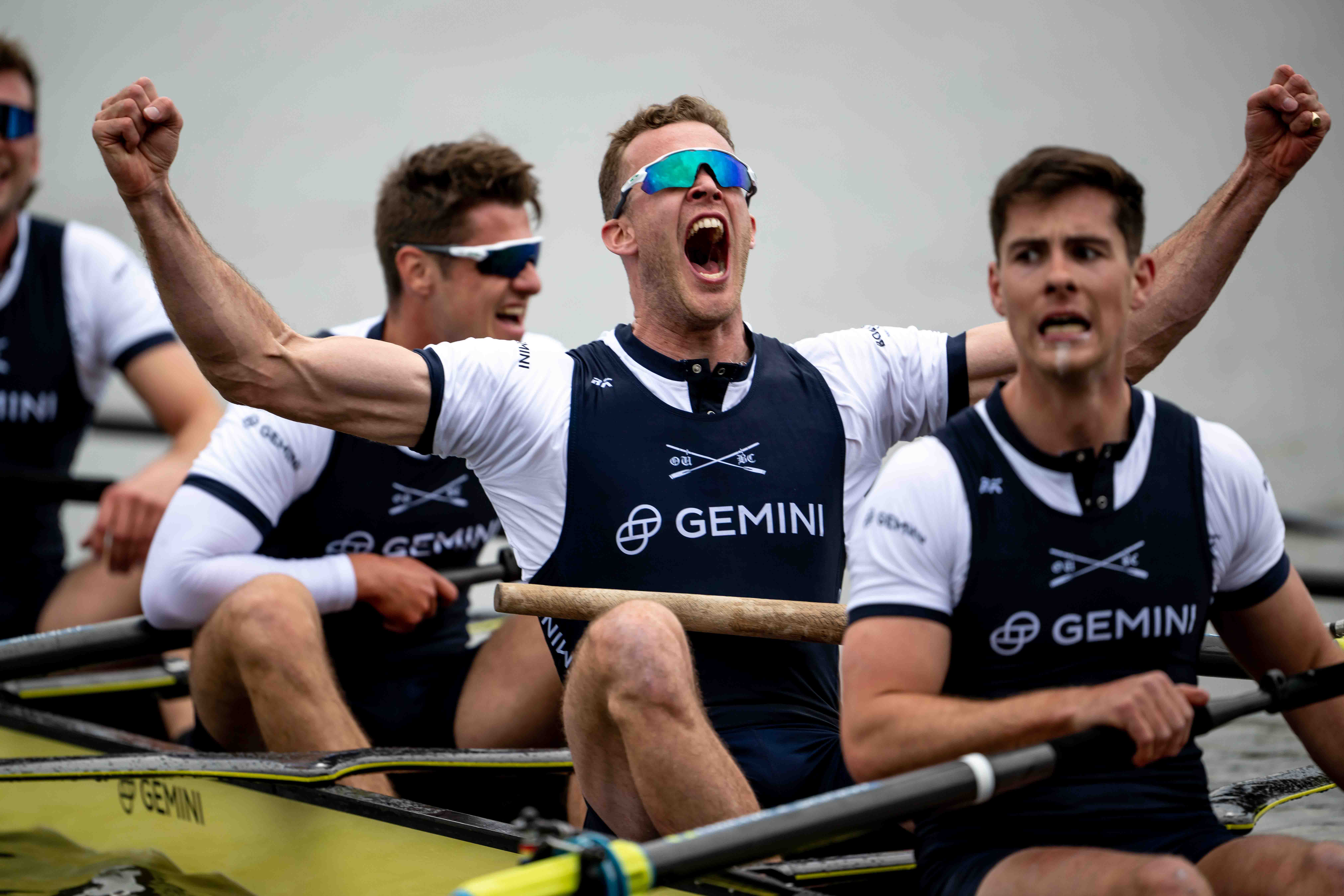 Results
Women's Boat Race, Cambridge beat Oxford by 2 1/4 lengths in a time of 18:23.
Women's Reserve Boat Race, Blondie beat Osiris by 2 3/4 lengths in a time of 19:09.
Men's Boat Race, Oxford beat Cambridge by 2 1/4 lengths in a time of 16:42.
Men's Reserve Boat Race, Isis beat Goldie by 3 1/2 lengths in a time of 17:04.